Chasing Winners Pays Off as Tesla Propels Momentum ETF to Record
(Bloomberg) -- While major equity indexes are stuck, one exchange-traded fund that chases past winners is breaking out. 
The iShares MSCI USA Momentum Factor ETF (ticker MTUM), which tracks stocks that have outperformed in recent months, climbed for a fifth day, surpassing its August peak to hit a fresh high. Helping buttress the gain was Tesla Inc., the fund's top holding that climbed 2.2% for its 14th gain in past 16 sessions. JPMorgan Chase & Co., the No. 2, advanced 2.4% to a record.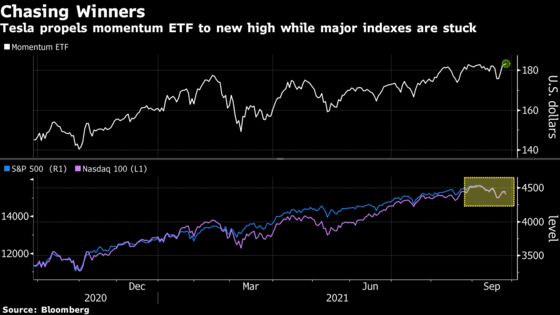 The momentum ETF's thrust stands out in the market, where benchmarks from the S&P 500 to the Nasdaq 100 have yet to reclaim the all-time highs reached earlier this month. It's also welcome news to investors who poured in almost $500 million to the fund last week, the most since May.