Cboe to Shake Up East European Stock Markets With Lower Fees
(Bloomberg) -- Cboe Global Markets Inc. is looking to shake up stock-market pricing when it starts handling shares of Polish, Hungarian and Czech companies next month in a move breaking up near-monopolies among eastern Europe's largest exchanges.
Cboe, the largest share-trading platform in western Europe since the acquisition of Bats Global Markets in 2017, has been meeting local brokerages in the eastern part of the region in preparation for starting business there Nov. 5. The move, triggered by demand from Cboe's existing and potential clients, is also aimed at pushing the Warsaw, Budapest and Prague bourses to cut their charges to ease order execution, especially for deals abroad.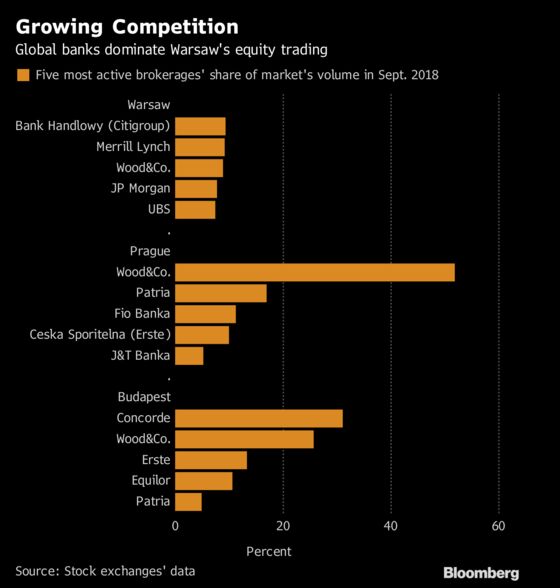 Cboe plans to lure traders of eastern European stocks by offering the same fees that it charges elsewhere, at about 0.2 basis point of order value. That compares with rates as high as 2.9 basis points at the Warsaw Stock Exchange, which in July also introduced fees for obtaining local market data when using other trading platforms. Those extra rates, aimed at brokers offering automated trading, multilateral-trading facility platforms or systemic internalizers, can amount to as much as 1.15 million zloty ($307,000) a year. Cboe sees such fees as intended to discourage local traders from switching to competing new venues.
"We hope that our offer will create market pressure on the local exchanges," so "that's why we are meeting with brokerages in the region to present them our solutions," Mark Hemsley, head of Cboe Europe, said in an interview. "We also believe such anti-competitive impediments by the local exchange may be questioned by the European regulators as contractual terms that hinder best-execution policy."
The Warsaw Stock Exchange said that, as a regulated market, its fees reflect the cost of acquiring new issuers and monitoring trades to prevent manipulation. The new charges "correspond to the economic value of such data, especially as we have already new clients" who have agreed to the rates, said Pawel Lasiuk, a spokesman for the Polish bourse.
"The liquidity and the simultaneous cheap access and relatively cheap market data to other European and U.S. markets may lure local brokers and investors," Dariusz Gorski, an analyst at Santander Bank Polska SA brokerage, said in a report. "While a price war may not emerge as a result, a drop in equity volumes at local bourses may be an outcome."
Cboe doesn't have a timeline for gaining a "substantial" market share in its new region as it prefers to take a wait-and-see approach, Hemsley said. The Chicago-based company, which handles about 25 percent of trades executed in western Europe, will now focus on showing local brokerages opportunities provided by access to foreign stocks as well as to new forms of orders. That includes a periodic auctions book, a tool that has gained popularity after dark-pool facilities were limited by new European Union capital market rules.
Periodic auctions that set order execution time depending on their size -- rather than on a first-in, first-out basis -- would be an "interesting and fair mechanism" for traders from the region that are at a lower stage of development, Hemsley said. The setup reduces the brokerages' need for investments in speedier systems, such as servers located close to an exchange or high-frequency trading technology, he said.
Cboe has already gained market makers for eastern European securities that will provide initial liquidity, the executive said.
"The larger question is how fast we may sort out some technological and settlement issues to bring new liquidity on our venue," Hemsley said. Post-trading services will be organized by Amsterdam-based EuroCCP and London's LCH.Clearnet clearing houses rather than local institutions.
The U.S. company's platform "has shown capacity to gain market share in different countries and provide attractive pricing," Bartosz Swidzinski, head of business development at Erste Securities, said in an email. In eastern Europe, "the key to their success will be to level post-trading costs as well as the capacity to create enough liquidity and a good-quality order book."
To contact the reporter on this story: Konrad Krasuski in Warsaw at kkrasuski@bloomberg.net
To contact the editors responsible for this story: Celeste Perri at cperri@bloomberg.net, Tom Lavell, John Viljoen