Canaccord's Dwyer Says Buy the Dip, Boosting S&P 500 Forecast
Canaccord's Dwyer Says Buy the Dip, Boosting S&P 500 Forecast
(Bloomberg) -- Equity pullbacks such as last week's are worth buying because stimulus measures will help sustain a rebound in corporate earnings, according to Tony Dwyer.
The chief market strategist at Canaccord Genuity LLC increased his 12- to 18-month target for the S&P 500 to 3,300 from 3,000 while boosting the 2021 profit estimate to $165 a share from $150. The new projection represents a roughly 9% gain from the benchmark's current levels.
After a historic rally from March's bottom, the S&P 500 has settled in a trading range as hopes for a swift economic rebound lost some steam amid fears over a second wave of coronavirus infections. The benchmark peaked at 3,233 in early June and has since found support around the 3,000 level.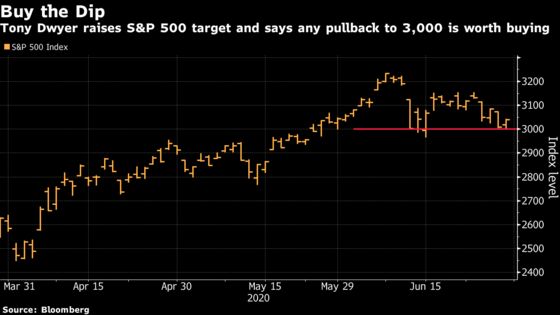 The whipsaw that the market has experienced in June is likely to stay for now as traders watch the progress of the economic reopening and anticipate the impact of the coming presidential election, Dwyer said. But with the Federal Reserve pledging to spur economic growth, investors should be ready to buy the dip, he added.
"Following the initial ramp to 3,200, we have been anticipating a multi-week/month period of consolidation with the intention of incrementally adding risk each time the SPX pulls back to 3,000," Dwyer wrote in a note to clients. "The combination of incredible monetary stimulus that is likely to continue for the foreseeable future and subsequent credit market and liquidity improvement allows us" to turn more optimistic on profits, he said.
Dwyer is the latest among Wall Street prognosticators who have raised their targets after being left in the wake of the S&P 500's 44% gain over 11 weeks through June 8, the fastest advance in decades. Earlier this month, strategists including Jonathan Golub at Credit Suisse and Bank of America's Savita Subramanian also boosted their year-end targets.
Before the pandemic, Dwyer had projected the S&P 500 would climb to 3,440 at the end of 2020. He suspended that forecast in March after the outbreak. But now, he says the stage is set for additional gains after the current consolidation is over. He cited the following reasons:
S&P 500's 10-week rate-of-change indicator looks like 2009, a sign that the market is replicating the initial recovery of 2009 and the next leg is higher once the consolidation plays itself out
Over the past two months, the market has produced a cluster of breath thrust, where more than 90% of S&P 500 stocks trade above their 50-day averages. Such strength historically has led to solid gains in the next six to 12 months
The index's 14-week stochastic indicator points to strong momentum while the Cboe Volatility Index over 30 points to elevated fear over volatility, a combination that Dwyer calls "a strong buy signal"