Bulls Hoping IBM Buyback Opens the Spigot on Corporate Demand
(Bloomberg) -- The earnings-related blackout in share repurchases is fast ending, and one group of buyers is lining up for shares that are a lot cheaper now than they were before.
IBM Corp. said Tuesday it will buy back as much as $4 billion in shares, taking advantage of the 22 percent rout in its stock since the end of the third quarter. IBM is part of a cohort of buyers that have been absent as the S&P 500 Index hurtles toward its worst month of the bull market.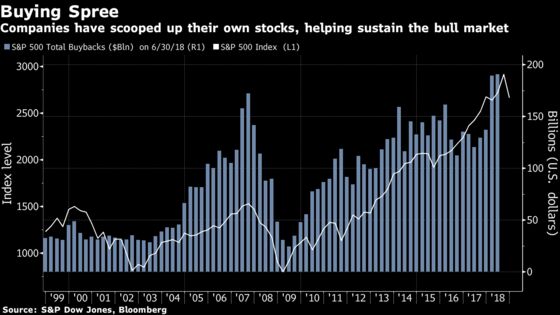 Wall Street strategists have cited their return as one reason to buy the dip at a time when the Federal Reserve is more focused on keeping the economy from overheating. Stocks have erased more than $3 trillion in value since the S&P 500's peak in September amid concern over a trade war with China and peaking profit growth.
"While investors positioned for 'rolling bear' market, potential for year-end rolling squeeze is rising," JPMorgan Chase & Co. strategist Marko Kolanovic, wrote in a note to clients. "Buyback activity is expected to increase significantly going forward," he said, estimating repurchases would run at an annualized pace of $200 billion to year-end.
The comeback of discretionary share repurchases is likely to allow companies to set a floor to a market where nothing so far has been able to stop the bleeding. Earnings season was supposed to the be a catalyst but has gone largely unnoticed by traders. Persistent declines have pushed the S&P 500 through previous support levels. Signs the economy is booming are now being viewed as signs it is peaking.
As the decline drove S&P 500's price-earnings ratio toward 15, the lowest level since early 2016, companies may be more motivated to buy back their own stock. About $110 billion of planned buybacks will be freed up this week, more than twice last week's $50 billion, and that total will rise to $145 billion next week, Deutsche Bank AG estimated. While it's unlikely all the money will be spent at once, the data point to potentially improving market liquidity.
Along with dividend payments that shareholders tend to reinvest in stocks, actual demand from corporate America will surge to $48 billion a week by mid November, up from $10 billion currently, UBS Group AG estimated.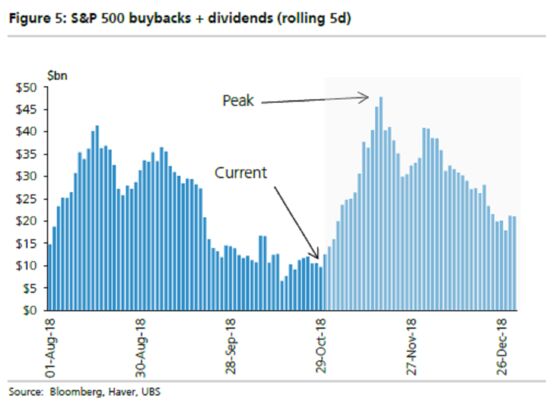 Buybacks have gained traction in recent years, with corporate appetite dwarfing all other investors as the biggest source of demand for U.S. stocks. Companies have announced $870 billion of shares repurchases this year through last Friday, up almost 70 percent from a year earlier, data compiled by Birinyi Associates Inc. showed.
"The resumption of discretionary buybacks should provide a tailwind," David Kostin, chief U.S. equity strategist at Goldman Sachs, wrote in a note late Friday.
To contact the reporter on this story: Lu Wang in New York at lwang8@bloomberg.net
To contact the editors responsible for this story: Courtney Dentch at cdentch1@bloomberg.net, Richard Richtmyer