'I Almost Sprinted Back to My Desk to Buy TIPS': Reflation 2020
(Bloomberg) -- Jason Bloom last week asked an audience of about 150 advisers in the U.S. Midwest to raise their hands if they are worried about inflation. Not one hand went up.
"I almost sprinted back to my desk to buy TIPS," said the Invesco strategist based in the Chicago suburbs, referring to the common term for inflation-protected Treasuries. "You see something like that and your antenna goes up. The market is probably really offsides right now, leaning too far in one direction."
The rush to hedge is a theme that resonates with money managers at Pacific Investment Management Co., State Street Corp. and BlackRock Inc. who've been been arguing that inflation is one of the underappreciated risks for 2020. Their calls look prescient as the market digests the Federal Reserve's apparent willingness to let inflation run hotter.
These heavyweights have been snapping up trades like TIPS and so-called breakevens because they're a cheap hedge even if you only expect price pressures to meet targets.
"The market right now across asset classes is not really pricing in any type of reflation trade," said Erin Browne, a manager of the global multi-asset fund at Pimco which is up 13% this year.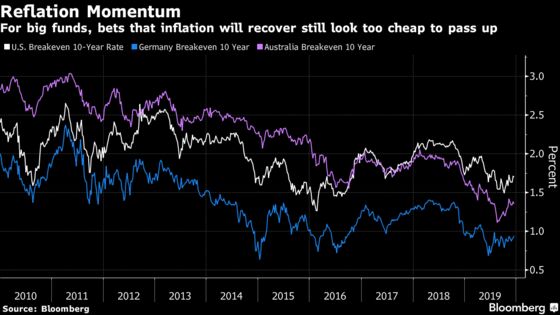 The narrative goes something like this: Inflation will finally break out in 2020 as a global growth rebound gains momentum and recessionary fears are vanquished. Central bankers will do nothing to snuff it out this time after being blamed for too-hasty rate increases in 2018, even if it means bearing witness to a run-up in consumer prices.
The bond market's gauge of inflation expectations over the decade, U.S. 10-year breakevens, on Friday reached 1.75%, the highest since July, before giving up some of that ground. The nominal benchmark Treasury yield peaked at 1.95% before sliding back to 1.82%. The boost in breakevens came from dovish monetary bets, with the help of an improved growth outlook as the U.S. and China confirmed they'd reached agreement on the first stage of a trade deal.
As data signal global manufacturing is emerging from a trough, Browne has gravitated toward TIPS with 2- and 10-year maturities in recent months. These securities "are pretty bearishly priced for almost recession-like conditions," she said.
"One risk for 2020 is that we might have disruptive inflation of some kind," said Tim Graf, head of macro strategy at State Street, who favors TIPS. "Markets are not adequately prepared for it because we've been so used to low inflation."
The nonchalance in Bloom's audience and many of their peers makes sense when you look at how inflation has undershot Fed targets through the course of the decade-long expansion. Based on the central bank's preferred gauge, inflation has averaged just 1.5% a year since the end of the last recession, compared with its target of 2%. So it's easy to disregard the inflationistas.
JPMorgan Chase & Co., which is touting reflation trades for 2020, isn't going all-out on inflation bets. Strategists at the bank see muted price pressures in developed economies and consumer price indexes only "inching higher" in the second half of the year on faster growth and tight labor markets.
"Typical reflation trades won't work as well next year because central banks are on hold," said John Normand, who is head of cross-asset strategy at JPMorgan. "Targets need to be tamer."
But even tame price pressures could come as a nasty surprise to a bond market heavily exposed to the long-dated bonds most vulnerable to a rising cost of living.
The Fed's no-change decision Wednesday found traders moving up bets on the next rate cut into 2020 from early the following year after Chairman Jerome Powell said policy makers would need to see inflation rise significantly and persistently to tighten rates.
"Powell noted that there's a pretty high bar for rate hikes so that certainly underpinned our thoughts," said Browne at Pimco. "We think we're on the right side of this trade."
Market-implied expectations for inflation over the coming years -- reflected in breakeven rates, or the difference between nominal and real yields -- are lagging the current gains in consumer prices in many developed countries.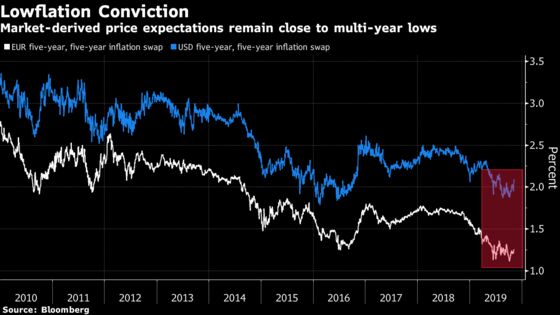 At Pimco, Browne is also pairing an underweight position in U.K. inflation-linked notes with a positive view on TIPS. She's betting on European reflation through subordinated bank debt, or AT1 bonds.
BlackRock strategists say higher consumer prices could also be handed down by suppliers squeezed by tariffs.
"If you start using tariffs as a political tool, inflation will be higher," said Scott Thiel, chief fixed income strategist at the firm. "Higher tariffs can break down global supply chains, and that's inflationary. That's not going to happen tomorrow. It's a long-term risk."
To contact the reporters on this story: Emily Barrett in New York at ebarrett25@bloomberg.net;Anchalee Worrachate in London at aworrachate@bloomberg.net;Nick Baker in Chicago at nbaker7@bloomberg.net
To contact the editors responsible for this story: Benjamin Purvis at bpurvis@bloomberg.net, Cecile Gutscher, Sid Verma