Europe's Bond Sales Just Set a New Record
(Bloomberg) -- Europe's debt market broke records with $113 billion of sales in a single week as borrowers rush to get ahead of rising interest rates. 
Portugal, Ireland and discount airline Wizz Air have all raised funding this week. The tally beats a previous record set in early 2020, when firms loaded up on cash just before the pandemic took hold.
The sales boom also follows an earlier-than-normal close for the market in the lead-up to Christmas, while the European Central Bank is set to start winding down bond purchases. Rate hikes are also coming in the U.S. after the biggest surge in U.S. consumer prices in nearly four decades last year.
"There is a bit more nervousness about how much spreads and yields may widen due to the Fed and the overall inflation picture," said Marco Baldini, head of EMEA and Japan bond syndicate at Barclays Plc. "That is definitely spurring issuers to go for a deal before they go into blackout, when in other years they may have done nothing."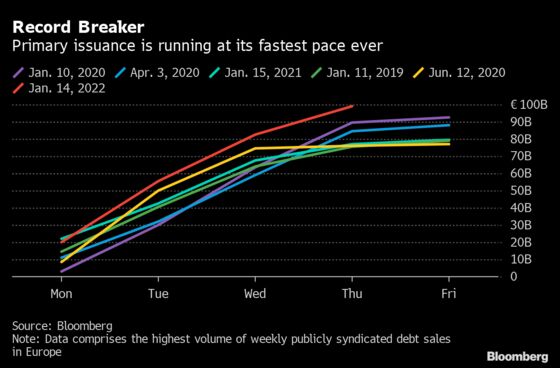 Jumbo-sized deals from supranational and sovereign issuers like Spain, French agency CADES and the European Financial Stability Facility have helped fuel the market's fast start to the year. Investors are piling in too: EFSF pulled in 30 billion euros ($34 billion) of bids for its two-part 5.5 billion euros deal, while CADES booked over 26.5 billion euros of orders for its 6 billion-euro sale.
"With the purchase program coming to an end, issuers are taking advantage of very robust funding conditions," said Neal Ganatra, Deutsche Bank AG's EMEA head of debt capital markets, SSA syndicate. "When we look at the names that have come to the market, they are very much the traditional frequent issuers."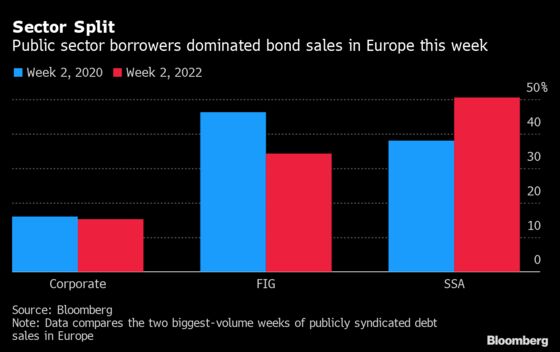 The corporate market is also seeing its share of big deals, as firms seize on Europe's still relatively low borrowing costs as the year's first raft of corporate earnings and subsequent quiet period approaches. Enel SpA, Prosus NV and E.On SE all raised at least 1 billion euros apiece. That's helped push non-SSA sales ahead of the U.S. market, where high-grade issuance had reached $36 billion as of Wednesday's close, according to data compiled by Bloomberg.
To be sure, borrowing is in line the highest predictions in a Bloomberg News survey conducted on Jan. 7, in which 39% of respondents said they expected weekly sales to exceed 50 billion euros. January is traditionally one of the busiest months of the year for publicly syndicated debt issuance.
"We are seeing an abundance of supply because this is the first full week of the year, when everyone is back at their desks," said Deutsche Bank's Ganatra. "Last week, with the holidays, execution windows were very tight."
Still, he said, "executing a transaction is no longer as straightforward as it was last year."