Bitcoin Return to $40,000 in Doubt as Flows to Key Fund Slow
(Bloomberg) -- Cryptocurrency enthusiasts counting on Bitcoin to bounce back above the $40,000 level face a challenge due to faltering demand for the biggest fund tracking the digital asset, according to JPMorgan Chase & Co.
The pace of flows into the $20 billion Grayscale Bitcoin Trust "appears to have peaked" based on four-week rolling averages, JPMorgan strategists led by Nikolaos Panigirtzoglou said in a note Friday. The fund slid 22% over the past two weeks through Jan. 22, outpacing a 17% drop in Bitcoin in the same period.
"At the moment, the institutional flow impulse behind the Grayscale Bitcoin Trust is not strong enough for Bitcoin to break out above $40,000," the strategists said. They added that the "risk is that momentum traders will continue to unwind Bitcoin futures positions."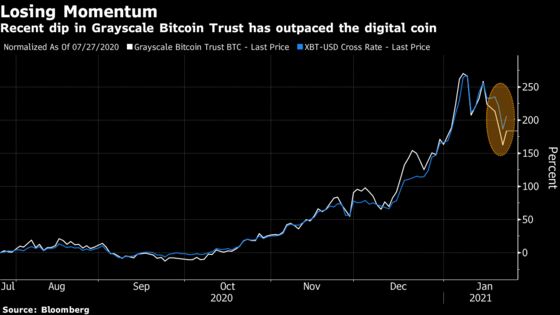 Bitcoin's red-hot rally lost momentum after the largest cryptocurrency reached a peak of almost $42,000 on Jan. 8. Proponents argue institutional interest has helped bolster Bitcoin's use as a hedge against dollar weakness and inflation, while skeptics maintain the latest surge is yet another speculative bubble, akin to the 2017 mania that preceded a rapid collapse.
In recent days, prices have been volatile in the mid-$30,000s and the digital coin is still sitting on a gain of almost 270% over the past year. On Monday, Bitcoin advanced about 4% to $33,078 as of 10:35 a.m. in London.
"The near-term balance of risks is still skewed to the downside," the JPMorgan strategists said.
In a separate analysis, Adam James with OKEx Insights found at least some long-term Bitcoin holders -- so-called "whales" -- and miners likely sold to institutional investors during the 2020 rally, as the average age of coins traded rose starting in October and has remained elevated since.
"Old-school Bitcoiners sold some of their old bags to new institutional buyers with extremely large new bags to fill," James wrote. OKEx Insights is affiliated with crypto exchange OKEx.