Bitcoin Futures ETF Frenzy Is Fading Fast as Another Fund Debuts
Bitcoin Futures ETF Frenzy Is Fading Fast as Another Fund Debuts
(Bloomberg) -- A third U.S. Bitcoin futures exchange-traded fund entered the market -- just as demand has dropped off. 
The VanEck Bitcoin Strategy ETF (ticker XBTF) launched Tuesday, roughly one month after the ProShares Bitcoin Strategy fund (BITO) became the first of its kind to start trading and debuted to record-setting demand. 
While the ProShares fund absorbed $1.1 billion in just two days -- the quickest an ETF has ever done so -- that pace of growth has cooled considerably. Assets have lingered between $1.3 billion and $1.4 billion for the past several weeks, according to data compiled by Bloomberg. Meanwhile, the second such fund, Valkyrie's Bitcoin Strategy ETF (BTF), has accumulated just $60 million despite launching three days after ProShares.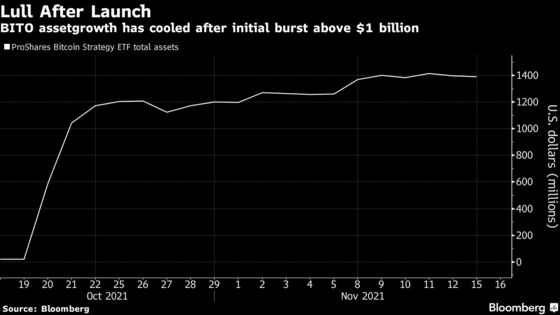 The stagnation speaks to a cooling in the pent-up demand seen for Bitcoin ETFs. Even as futures-backed funds have satisfied the appetite of some investors who have waited years to invest in a Bitcoin-related ETF, many others see the these funds as inferior to ones that could directly hold the crypto, which haven't gained U.S. clearance. VanEck's own attempt to win approval for a spot Bitcoin ETF failed last week. Meanwhile, the well-publicized costs of rolling Bitcoin contracts and the stretched futures capacity caused by the initial spurt of demand has delayed what was expected to be a flood of fund launches. 
"There's definitely a lull going on right now relative to the launch mania and so VanEck has their work cut out for them in trying to get people excited again," said Eric Balchunas, senior ETF analyst with Bloomberg Intelligence. The new VanEck ETF does carry a lower fee than the other two funds,  and "the low cost could help a bit, although I don't see this as a price-sensitive investor base quite yet," he said.
The price of Bitcoin has fluctuated since the first funds debuted and took a sharp dip Tuesday, creating further headwinds for the new VanEck fund. 
The world's largest cryptocurrency has slipped 5.7% since mid-October, despite hitting an all-time high last week. The ProShares ETF has declined even more in that period, slumping 7.7%, because the fund must continually roll forward its futures exposure as the contracts expire -- paying a fee to do so. Those roll costs have sidelined issuers such as Bitwise Asset Management, which withdrew its Bitcoin futures ETF filing last week. Invesco Ltd. dropped its pursuit of its own application last month, while continuing to chase a "physically backed" fund.
Read More About Bitcoin ETFs:
VanEck's 64-fund lineup commands nearly $65 billion in assets and is popular among financial advisors, which may add to XBTF's appeal, according to Dave Nadig of ETF Trends. Additionally, XBTF charges 65 basis points, while BITO and BTF both have expense ratios of 95 basis points.
"I imagine VanEck will pick up some money because brand matters, and VanEck's is spotless," said Nadig, chief investment officer at the data-provider. "Price matters, and 30 basis points is a lot."
Still, while demand for the Proshares fund has cooled, it continues to attract money. The ETF has had 13 straight days of inflows, topping $180 million, data compiled by Bloomberg show. 
Renewed interest in BITO and other futures-backed Bitcoin ETFs will likely pick up again as time passes, with flows begetting more flows, Balchunas said. 
"You will see some demand down the road, as there are likely some advisors watching these ETFs for a few months to see how the roll goes before jumping in," Balchunas said. "There are bigger traders and institutions who will come in more and more as the volume and options activity increases."
Get Your
Daily Newsletter
Get market moving news, top news & compelling perspectives
---