Biden Readies Address on Plan for 'Severe' Russia Sanctions
(Bloomberg) -- U.S. President Joe Biden promised to impose "severe sanctions" against Russia for its invasion of Ukraine and will spell out the economic penalties in a public address scheduled for Thursday afternoon.
The question is how far he and allies will to go to punish President Vladimir Putin. Possible measures include cutting Russia's top banks from the financial system and imposing sanctions on Putin himself. Kicking Russia out of the messaging system used for financial transactions called Swift would be the most extreme step.
U.S. officials have said all options are on the table. Thursday morning Biden convened his National Security Council to discuss the latest developments, according to a White House official. He also met virtually with Group of Seven leaders for more than an hour to discuss a package of more far-reaching sanctions. He is set to speak on the issue at 12:30 p.m. 
Late Wednesday, Biden condemned the attack as "unprovoked and unjustified" and spoke with Ukrainian President Volodymyr Zelenskiy by telephone.
"President Putin has chosen a premeditated war that will bring a catastrophic loss of life and human suffering," the American president said in a statement overnight. "The United States and its allies and partners will respond in a united and decisive way."
Russian military vehicles have moved in the northern region that includes Ukraine's capital, officials there said, after tanks were reported rolling in from Crimea to the south. A senior Russian lawmaker said Moscow aims to ensure a pro-Moscow government, pushing out U.S. influence. 
News of the invasion came as the UN Security Council was meeting in emergency session on the crisis. Ambassador Linda Thomas-Greenfield said the council would vote on a resolution condemning Moscow's actions on Thursday. As a permanent member of the Security Council, Russia can veto that resolution.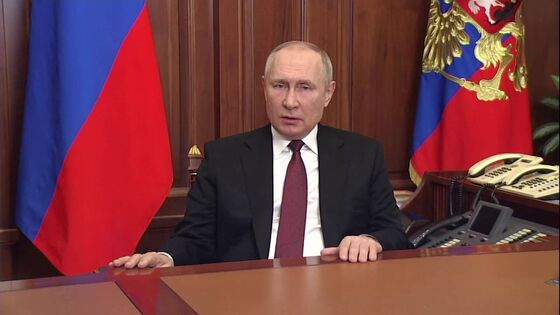 Biden is set to outline the punishments after discussing the unfolding crisis with other G-7 leaders on a morning call that a White House official said got under way shortly after 9 a.m. in Washington. 
The U.K, has been the most aligned with the U.S. on Russia. Prime Minister Boris Johnson, in a televised address in London, that the West "will agree a massive package of economic sanctions designed to hobble the Russian economy." 
Biden said Zelenskiy asked him "to call on the leaders of the world to speak out clearly against President Putin's flagrant aggression, and to stand with the people of Ukraine."  
Zelenskiy said in a speech to his nation on Thursday morning that, "the U.S. has started to prepare international support." He imposed martial law across the country, as his government warned Russian forces were attacking cities and urged citizens to hide in shelters to avoid missile attacks on Kyiv. 
Earlier Wednesday, the White House sanctioned the builder of the Nord Stream 2 gas pipeline and its corporate leadership. That came on top of a sanctions package announced Tuesday following Putin's recognition of breakaway territories in the Donbas region of eastern Ukraine as independent states. 
Putin announced in a televised speech early Thursday that he had decided to order a "special military operation" to "protect" Donbas, saying the U.S. had crossed the Kremlin's "red line" by expanding NATO in Eastern Europe. In the speech, Putin said Russia didn't plan to occupy Ukraine but accused the U.S. of refusing to negotiate on Russia's security demands. 
Zelenskiy said "Russia attacked our military infrastructure and our border guarders" and urged people to stay calm and stay at home if possible. "We are working. The army is working."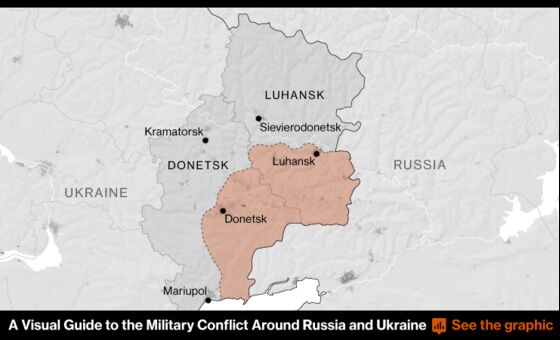 Biden said he would coordinate with NATO allies "to ensure a strong, united response that deters any aggression against the alliance." The U.S. earlier this month sent 3,000 troops to central Europe but the White House has said it has no intention to deploy them in Ukraine.