Indonesia's Bear Whisperer Who Called Stocks Correctly Now Turns Bullish
(Bloomberg) -- The man who twice correctly predicted bear runs in Indonesian equities has turned bullish on the country's stocks and bonds, with a little help from slumping oil prices and the recent U.S. elections.
"Donald Trump can no longer do as he pleases," said John Rachmat, a strategist at PT Pinnacle Persada Investama, which manages 4.8 trillion rupiah ($334 million) of assets. Democrats, having gained majority control of the U.S. Congress, will constrain the president's budget spending and trade war rhetoric, he said. "His plan for a second round of tax cuts would dissipate totally, and this brings a huge relief to the U.S. and global bond markets."
The former head of research at PT Mandiri Sekuritas said the recent drop in oil removes the biggest threat to Indonesia's currency, bond and equity markets. Rachmat, who started the Pinnacle Granditas Dynamic Balanced Fund in April, is known in the market for having called Indonesian stock slides in 2013 and again in late 2014-15, amid mounting political pressure for President Joko Widodo.
The Jakarta Composite Index is down about 9 percent from its record high in February amid concerns over a weakening rupiah and widening current account deficit. The benchmark gauge is now on track for its best month of the year, however, with a gain of 4.7 percent so far in November. It's been helped by the return of foreigner investors, who have bought over $700 million of the country's stocks this month, on track for their biggest net purchase since April 2017.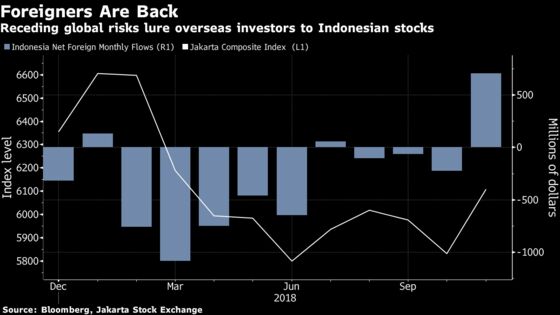 Foreign appetite for Indonesian debt has intensified this quarter as well. The yield on the 10-year benchmark government bond was at 7.9 percent on Thursday, down from over 8.8 percent in October, this year's peak.
'Steep Reductions in Risks'
Moves by the Indonesian central bank and government to bolster the local currency and rein in the widening current account deficit have been supportive. Bank Indonesia has raised its benchmark interest rate six times since May, and the rupiah has gained 5.9 percent in November, making it the best performer in Asia. Meanwhile, Widodo is boosting spending ahead of an election next year with the economy set to be among the key voting issues.
Renowned bear market augur Rachmat had expressed caution in May amid rising oil prices and the widening U.S. budget deficit but now looks for gains over the next six months or so.
"These steep reductions in risks, aided by a temporary boost to economic growth from enhanced government spending, should help propel Indonesia's bond and equity markets through around mid-2019," the fund manager said.
--With assistance from Yusuke Takeshita and Fathiya Dahrul.
To contact the reporters on this story: Harry Suhartono in Jakarta at hsuhartono@bloomberg.net;Liau Y-Sing in Kuala Lumpur at yliau@bloomberg.net
To contact the editors responsible for this story: Divya Balji at dbalji1@bloomberg.net, Kurt Schussler, Naoto Hosoda