Bayer Shares Rise as CEO Baumann Faces Revolt From Temasek
(Bloomberg) -- Bayer AG shares rose after Bloomberg reported that long-time investor Temasek Holdings Pte is pushing for the removal of Chief Executive Officer Werner Baumann.
The stock jumped as much as 3.5% in Frankfurt trading, reaching its highest level since July 2020, and outpacing gains at Germany's DAX blue-chip index. The German company also won clearance for a key medicine in Japan. 
Temasek, a key shareholder, is pushing for the removal of Baumann amid longstanding concerns about Bayer's operating performance under his leadership, Bloomberg News reported on Saturday, citing people familiar with the matter. Temasek has communicated its discontent about current leadership to the company and supervisory board Chairman Norbert Winkeljohann, the people said.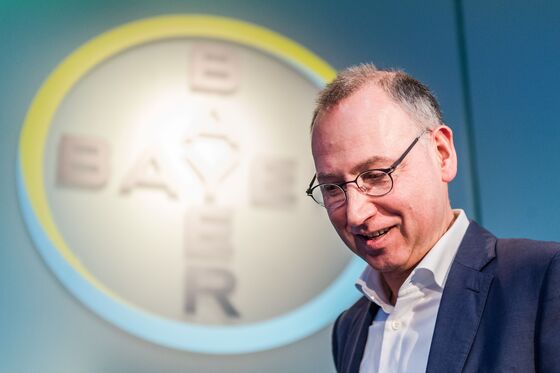 The Singapore state investor is considering options ahead of the shareholder meeting next month, including requesting a no-confidence vote in Baumann or voting against ratifying the management's performance, said the people, who asked not to be identified. Either step would significantly raise pressure on Bayer's supervisory board to  reshuffle leadership.
The move is a surprise to many, since Baumann has already survived three shareholder meetings after the controversial $63 billion Monsanto takeover closed -- including in 2019 when he actually lost a largely symbolic confidence vote. Bayer shares have also performed well in recent months, boosted by surging prices for agriculture commodities and a rosier outlook for its healthcare divisions. The company's shares are up 33% so far this year, compared to an 8% decline of the DAX. 
Temasek's move to actively push for change at the helm of Bayer is also an unusual step for the investor, which rarely calls for a profound overhaul at its holdings. It has been a major shareholder since it built a roughly 4% stake in the German company in 2018, helping Bayer complete the Monsanto acquisition. Another fund, Alatus Capital, has also argued in favor of replacing Baumann. 
In a separate matter Monday, Bayer said its kidney drug Kerendia has won clearance for treating chronic kidney disease and type 2 diabetes in Japan. Bayer expects Kerendia to become a blockbuster medicine, helping make up for lost sales after current bestselling eye treatment Eylea and blood-thinner Xarelto lose patent protections in coming years.
It's unclear whether Temasek's push will gain traction with many of Bayer's other shareholders. 
Union Investment offered support for Baumann, saying Bayer is in a better position than it was a year ago and that the CEO should get to serve out his contract through April 2024. While the Monsanto deal brought unnecessary risk to Bayer, Baumann has made some good steps in carrying out his strategy, capitalizing on the commodities boom and making some smart pharmaceutical deals, the investor said. 
"An early termination of his contract would only cause chaos," Janne Werning, Union's head of capital markets and stewardship, said by email.
Deka Investments said it's in talks with the company and will comment at the annual meeting, which is taking place virtually on April 29. The head of Germany's retail shareholder association DSW, Marc Tuengler, told German daily Handelsblatt that Temasek's push is "absurd" because it comes two or three years late. 
Baumann has survived plenty of turmoil since becoming CEO in May 2016. He spearheaded the acquisition of Monsanto within weeks of assuming that post, angering plenty of shareholders who disagreed with the decision, which became Germany's largest-ever corporate takeover. Some other investors were simply upset they hadn't been consulted about such a large decision.
The Monsanto deal also alienated some investors and has raised questions about whether Bayer would be better off splitting into separate entities devoted to pharma, consumer health and agriculture.
It's also unclear if the Monsanto acquisition will ever make financial sense. Bayer has pledged to spend as much as $16 billion to finally get beyond a mountain of U.S. litigation claiming Monsanto's weedkiller Roundup causes cancer, which Bayer denies. That litigation has weighed heavily on Bayer's stock, which is down by more than a third since the deal closed in June 2018.
Despite all that, Baumann has hung onto his job, insisting the Monsanto deal was smart. After an unprecedented shareholder rebuke in 2019, when investors withheld their support, Bayer's supervisory board still backed him and a year later extended his contract through April 2024.
As of now, Bayer's supervisory board appears to still stand behind its CEO. The board has "unreserved confidence" in Baumann, his team and their strategy, the company wrote in a letter responding to Alatus, posted on Bayer's website.