Battered 60/40 Strategy Followers Face More Pain as Yields Rise
Battered 60/40 Strategy Followers Face More Pain as Yields Rise
(Bloomberg) -- After already registering the worst monthly losses in almost a year so far in September, little relief appears in sight for investors adhering to the 60/40 stock-bond portfolio strategy. 
The traditional U.S. asset mix of 60% stocks and 40% fixed-income securities was down about 97 basis points in September as of Friday, according to Bloomberg calculations. That's the biggest monthly loss since October and yields are moving higher again Monday, while equity prices are mixed. The S&P 500 Index is down about 1.5% in September.
Benchmark 10-year Treasury yields briefly topped 1.5% on Monday, the highest since June, continuing the upward momentum since the Federal Reserve signaled last week that policy normalization will likely start in November and rate hikes could potentially begin next year. The Bank of England's more hawkish outlook also helped to push Bloomberg's global sovereign and aggregate bond indexes each down about a percent so far this month.
"Ten-year yield's rise of 20 basis points since last week's Fed meeting should provide support for spread widening pressure on investment grade credit debt portfolios," said Tom di Galoma, managing director of government trading and strategy at Seaport Global Holdings. "This in turn should have an adverse effect on the 60/40 portfolio under performance, which could also have a negative effect on equity markets over the near-term."
 
Di Galoma forecasts the U.S. 10-year yield will end the year in the 2% to 2.25% range, well above its current 1.48% level.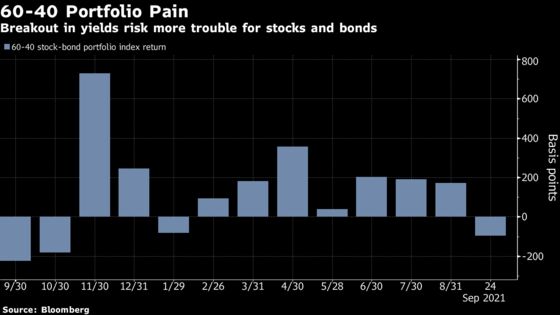 Adding to the mix of woes that could weigh on equities is a developing energy crisis that could dampen global growth and add more momentum to already high U.S. inflation indicators. There's also a slew of Fed speaker this week, including Chair Jerome Powell, so their insights may help clarify the market's outlook the path of monetary policy and thus for yields.