Bab el-Mandeb, an Emerging Chokepoint for Middle East Oil Flows
(Bloomberg) -- Saudi Arabia temporarily halted oil shipments via the Bab el-Mandeb Strait, a key shipping lane for crude at the southern end of the Red Sea, after the country said two tankers were attacked by the Yemeni Houthi militia. Here's why this waterway is starting to become a focal point for the global economy.
What is the Bab el-Mandeb Strait?
The Bab el-Mandeb, or "Gate of Tears", is a narrow neck of water that separates the Red Sea from the Indian Ocean. It's bordered to the northeast by Yemen and to the southwest by Eritrea and Djibouti. The strait is divided into two channels by Perim Island. Larger vessels use the wider and deeper western channel, which at its narrowest point is around 16 miles (25 kilometers) wide and 170 fathoms (310 meters) deep. A smaller channel along the Yemeni coast is two miles wide. Shipping through Bab el-Mandeb is separated into inbound and outbound channels, each two miles wide.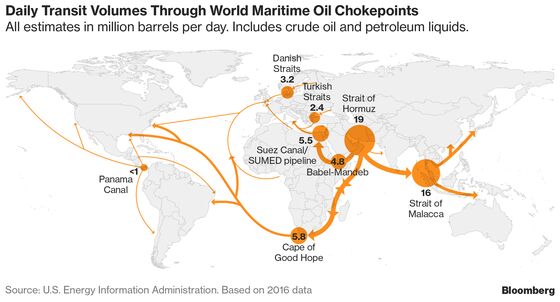 Bab el-Mandeb forms a vital link on the trade route between the Mediterranean and Asia. Vessels carrying goods between Europe and Asia, as well as oil from the Middle East to Europe and North America, pass through it if navigating Egypt's Suez Canal. The EIA estimates that in 2016 -- the last year for which it published data -- 4.8 million barrels a day of crude and petroleum products flowed through the strait, with about 2.8 million going north toward Europe, and another 2 million moving in the opposite direction.
How important is Bab el-Mandeb to Saudi Arabia?
It sent 600,000 barrels a day of crude from the Persian Gulf to buyers in Europe and North America this year, according to tanker tracking data compiled by Bloomberg. An additional 330,000 barrels a day were shipped from the country's main export facility at Ras Tanura to its Red Sea port of Yanbu. On top of that, 120,000 a day went in the opposite direction, to Asia from Yanbu. The kingdom's total exports have been about 7 million a day this year.
How serious could a disruption get?
There's no suggestion that the Bab el-Mandeb could be closed, and it is rare for companies to avoid it. That happened at the height of a piracy crisis about a decade ago, during which a Saudi Arabian supertanker was among dozens seized, and owners of different types of vessels said they would divert elsewhere. The kingdom's decision was announced late Wednesday in response to attacks on its own vessels, so it may well remain a localized issue.
How long could the suspension last?
Saudi Arabia has said the suspension is temporary. It's unlikely to reverse the decision until it's confident that crew, ships and cargoes are safe.
Can oil exporters bypass the strait?
Ships carrying oil from the Persian Gulf to Europe and North America can avoid the Bab el-Mandeb by traveling around the southern tip of Africa. The voyage from Fujairah, at the exit from the Persian Gulf, to Houston would increase by 2,660 nautical miles, or 28 percent. The distance to Rotterdam would rise by 4,800 nautical miles, or 78 percent, while a journey to Augusta in Italy would be nearly three times as long, at 10,860 nautical miles. The increased distances would add to shipping and fuel costs, and also disrupt supplies. A voyage from Saudi Arabia to Rotterdam takes about 22 days via the Bab el-Mandeb and Suez Canal, compared with 39 days around Africa, according to data compiled from Bloomberg tanker tracking.
Can Saudi Arabia ship more from its Red Sea ports?
Saudi Arabia could pump more of its crude across the country by pipeline to its Red Sea port of Yanbu, from where the barrels could be loaded on tankers for delivery through the Suez Canal. That would bypass the Bab el-Mandeb. The 1,200 kilometer (746-mile) East-West pipeline has a capacity of 5 million barrels a day, but it's also used to deliver crude to four refineries along the Red Sea coast that can process as much as 1.4 million barrels a day.
Saudi Aramco exported an average of 650,000 barrels a day from Yanbu this year, according to Bloomberg ship-tracking data. Supplies to the refineries and shipments from Yanbu indicate that Aramco is only using around 2 million barrels a day of capacity along the East-West pipeline. In other words, there's a theoretical 3 million barrels a day spare.
To contact the reporter on this story: Julian Lee in London at jlee1627@bloomberg.net
To contact the editors responsible for this story: Alaric Nightingale at anightingal1@bloomberg.net, Bruce Stanley