Stocks Rise on Tech Advance; Gold and Oil Climb: Markets Wrap
(Bloomberg) -- U.S. stocks rose, with technology leading the advance, as investors continued to bet on companies with strong balance sheets and better prospects in an economy where work-from-home remains part of the norm.
The Nasdaq 100 jumped more than 1%, with Adobe, Amazon.com and Square ending at all-time highs. The Nasdaq Composite capped a seventh straight advance in its longest rally of the year. The S&P 500 lagged behind, with some sectors under pressure as investors weighed the economic impact of virus flareups in some states.
"There's absolutely a big tug-of-war going on right now," JJ Kinahan, the chief market strategist at TD Ameritrade, said by phone. "Everyone is trying to figure out who is going to be the winners and losers when things get quote-unquote back to normal. That to me shows that everybody is trying to figure out which way to go."
Gold tested a seven-year high, while the dollar weakened. European stocks slumped, with Wirecard AG plunging after more than $2 billion in assets went missing. The yield on Germany's 30-year government debt fell below zero for the first time since May. Crude oil settled above $40 a barrel in New York.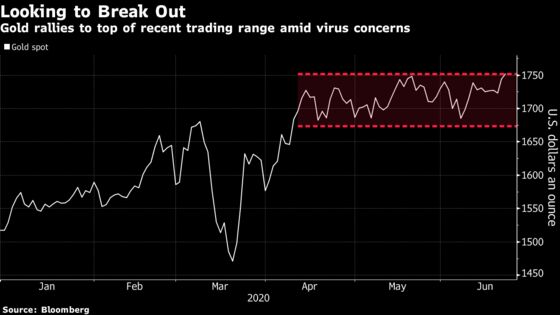 The comments from Texas's governor come with a dozen states reporting sharp increases in virus cases over the weeken, even as others move forward with phased reopening. There were also new scares in Germany and Australia. But investors are wagering that policy makers will be unwilling to stop business activity or slow progress toward a recovery.
At the same time, risk appetite is being supported by historic stimulus programs by central banks around the world. Equity markets have steadied in recent weeks and the S&P 500 is within 10% of its pre-pandemic peak.
"The market doesn't believe that we will see such draconian lockdowns even if there is a resurgence of the virus. The politics have moved on," said James Athey, a money manager at Aberdeen Standard Investments. "Rightly or wrongly, there's also a pretty widespread feeling that riskier assets won't go down too far because the Federal Reserve won't let them."
Here are some key events coming up:
MSCI Inc. on Tuesday announces its market classification review for 2020.
The IMF will release new 2020 growth projections on Wednesday.
U.S. jobless claims, durable goods and GDP data are due Thursday.
A rebalance of Russell indexes is due on Friday.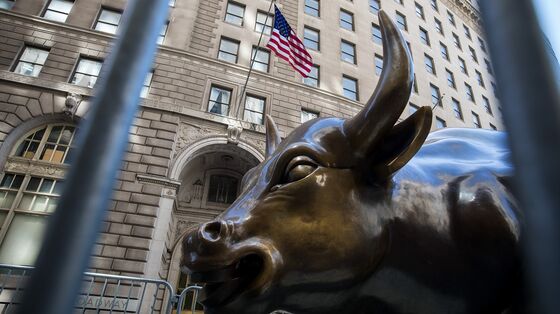 These are the main moves in markets:
Stocks
The S&P 500 Index increased 0.7% to 3,118 as of 4 p.m. New York time.
The Dow Jones Industrial Average added 0.6% and the Nasdaq composite rose 1.2%.
The Nasdaq Composite Index gained 0.8%, hitting the highest in more than a week with its seventh consecutive advance.
The MSCI All-Country World Index was little changed at 527.04.
Currencies
The Bloomberg Dollar Spot Index decreased 0.5% to 1,213.48, hitting the lowest in a week with the first retreat in a week and the largest dip in three weeks.
The euro increased 0.7% to $1.1259, the first advance in a week and the biggest climb in more than two weeks.
The Japanese yen was little changed at 106.83 per dollar, hitting the strongest in more than six weeks with its sixth straight advance.
Bonds
The yield on 10-year Treasuries rose one basis point to 0.70%, the lowest in more than a week.
Germany's 10-year yield fell three basis points to -0.44%, the lowest in a week on the largest fall in more than a week.
Britain's 10-year yield fell four basis points to 0.2%, the biggest fall in more than a week.
Commodities
West Texas Intermediate crude advanced 1.8% to $40.46 a barrel.
Gold futures strengthened 0.8% to $1,765.90 an ounce.