Stocks Surge Most Since March on Dovish Fed Signal: Markets Wrap
Asia Stocks to Gain Amid Trade Talk; Dollar Rises: Markets Wrap
(Bloomberg) -- U.S. stocks rallied the most in eight months and the dollar fell after a dovish tone from the Federal Reserve chairman fueled speculation the central bank is closer than thought to pausing on rate hikes.
Stocks that had fallen the most during the six-week slump in American equities led gains after Jerome Powell said rates are "just below" the range of a neutral policy, potentially removing one of the biggest overhangs. Aside from the Treasury market, where shorter-term yields turned lower but only by a few basis points, moves in other asset classes were just as heady:
The spread between December 2018 and December 2019 eurodollar futures -- a measure of how much tightening traders expect next year -- briefly touched less than 25 basis points, the equivalent of one Fed hike. It had forecast two earlier this month.
The two-year Treasury yield fell two basis points to 2.81 percent.
The Nasdaq 100 Index jumped almost 3 percent, with the Amazon.com and Netflix each higher by at least 5 percent to lead the FANG cohort.
The Bloomberg Dollar Index sank the most in two weeks, fueling speculation its two-month rally may be over.
Emerging-market equities hit a three-week high, while the rate on Mexico's 10-year dollar-denominated bond tumbled by 16 basis points.
The pound reversed losses sparked by the Bank of England's warning that a no-deal Brexit could spark a recession.
The Fed chairman said the economic outlook remains "solid," bolstering expectations for a rate hike when the central bank meets next month, but he noted that the effects of higher rates take time to show up in data. All told, investors surmised the Fed is likely to reduce the number of hikes or outright stop them next year.
"Stocks are rallying dramatically because Chair Powell took a far more dovish tone than he did just a month ago when he said rates were a long way from neutral," Kristina Hooper, chief global market strategist at Invesco Ltd, said in an email interview. "This is in line with the more dovish tone Vice Chair Richard Clarida has taken in recent weeks, but which the market didn't believe because it didn't come from Powell. Now investors are true believers – and are reacting accordingly."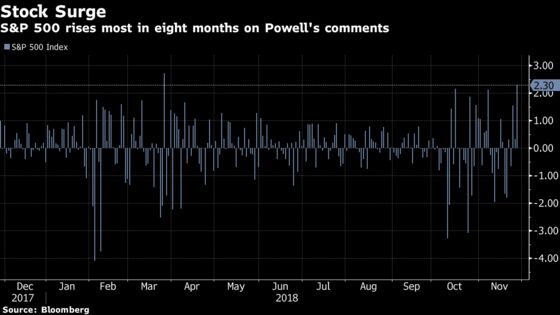 Trade also remained in focus, carmaker shares were under pressure after President Donald Trump threatened tariffs and renewed his haranguing of General Motors for closing U.S. plants. Trump heads to the Group of 20 meeting tomorrow where investors will look for progress in his trade war with China.
Terminal subscribers can read our Markets Live blog.
Trump and President Xi Jinping plan to meet at the G-20 summit in Argentina that kicks off on Friday.
Thursday sees the release of the minutes from the Federal Open Market Committee's November meeting.
These are the main moves in markets:
The S&P 500 Index gained 2.3 percent as of 4 p.m. New York time, the biggest three-day gain since June.
The Nasdaq 100 rose 3.2 percent and the Dow added 2.5 percent.
The MSCI Emerging Markets Index rose 1.4 percent.
The Stoxx Europe 600 Index was little changed.
The MSCI All-Country World Index climbed 1.7 percent.
The Bloomberg Dollar Spot Index fell 0.6 percent.
The euro advanced 0.7 percent.
The Japanese yen rose 0.1 percent.
The British pound gained 0.6 percent.
The yield on 10-year Treasuries was little changed at 3.06 percent.
Germany's 10-year yield was steady at 0.35 percent.
Britain's 10-year yield declined two basis points to 1.377 percent.
The Bloomberg Commodity Index gained 1.6 percent.
West Texas Intermediate crude fell 2.1 percent to $50.45 a barrel.
Gold rose 0.6 percent to $1,226.80 an ounce.
--With assistance from Alexandra Harris and Katherine Greifeld.
To contact the reporters on this story: Randall Jensen in New York at rjensen18@bloomberg.net;Vildana Hajric in New York at vhajric1@bloomberg.net
To contact the editors responsible for this story: Jeremy Herron at jherron8@bloomberg.net;Samuel Potter at spotter33@bloomberg.net
Get Your
Daily Newsletter
Get market moving news, top news & compelling perspectives
---