U.S. Stocks Rise Amid Trade Talk; Dollar Advances: Markets Wrap
Everything you need to know about what's moving markets.  
(Bloomberg) -- Stocks rose as investors assessed the chances for a detente in the U.S.-China trade tussle. The dollar gained, while Treasuries edged lower.
The S&P 500 advanced for a second day in a row, with health care and consumer staple companies pacing gains. President Donald Trump's economic adviser Larry Kudlow said Wednesday Trump is open to a trade deal with China, which followed threats of more tariffs by the president ahead of meeting with his counterpart Xi Jinping. Small caps dropped. Major retailers got a boost as results from the biggest shopping weekend of the year showed an increase in online shopping.
Major moves in U.S. stocks:
Facebook fell, along with Apple and Google, while Netflix rose 2 percent. 
General Motors slid after Trump said the U.S. is looking at cutting all its subsidies.
United Technologies tumbled after it said it plans to break into three separate companies.
Macy's rose 4 percent after the end of Black Friday shopping. 
The 10-year Treasury yield edged higher, while the dollar gained for a second day after comments by several Federal Reserve officials, including Vice Chairman Richard Clarida who backed gradual rate hikes. The pound weakened as traders mulled prospects for parliamentary approval of the Brexit deal, which Trump said could jeopardize Britain's ability to strike a trade pact with the U.S. West Texas crude traded above $51 a barrel.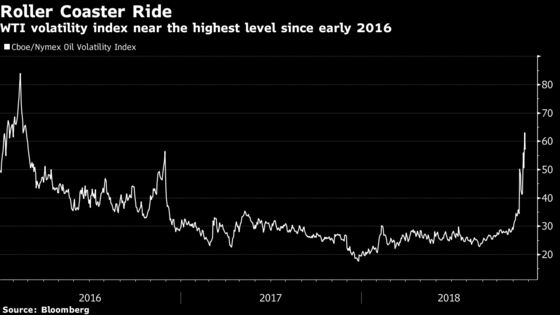 Elsewhere, emerging market shares climbed. Bitcoin steadied around $3,700 after plunging 14 percent Monday.
"The news flow on the U.S.-China trade dispute has certainly been erratic and unpredictable, and the latest reports have weighed on US markets as we speak," Neil MacKinnon, London-based global macro strategist at VTB Capital and a former U.K. Treasury official, said by phone. "Investors are a little bit anxious that the G20 meeting might not produce an agreement or even a truce on the trade dispute."
Trade remains firmly in investors' minds before leaders of the two biggest economies meet in Buenos Aires at the end of the week. Trump indicated in an interview with the Wall Street Journal published Monday that, besides a scheduled bump-up in tariff rates on $200 billion of Chinese imports in January, he'd also slap new duties on the remaining imports that have so far escaped his levies, depending on how talks proceed.
Fed speakers will be closely watched for the latest thinking on the trajectory of interest rates. Chairman Jerome Powell's speech on Wednesday will be parsed for any hints on prospects for a pause in rate increases next year after traders reduced expectations for the pace of monetary policy tightening.
Terminal subscribers can read our Markets Live blog.
Presidents Donald Trump and Xi Jinping plan to meet at the G-20 summit in Argentina that kicks off on Friday.
Federal Reserve Chairman Powell addresses the New York Economic Club on Wednesday.
Thursday sees the release of the minutes from the Federal Open Market Committee's November meeting.
These are the main moves in markets:
The S&P 500 Index rose 0.3 percent as of 4 p.m. New York time.
The Stoxx Europe 600 Index dropped 0.3 percent.
The MSCI All-Country World Index rose 0.1 percent.
The MSCI Emerging Market Index increased 0.4 percent.
The Bloomberg Dollar Spot Index advanced 0.2 percent.
The euro declined fell 0.3 percent to $1.1295.
The Japanese yen dropped 0.2 percent to 113.78 per dollar.
The British pound declined 0.7 percent to $1.2734.
The MSCI Emerging Markets Currency Index fell 0.2 percent.
The yield on 10-year Treasuries rose less than one basis point to 3.06 percent.
Germany's 10-year yield declined two basis points to 0.34 percent.
Britain's 10-year yield fell three basis points to 1.382 percent.
The Bloomberg Commodity Index declined 0.4 percent.
West Texas Intermediate rose 0.3 percent to $51.77 a barrel.
LME copper fell 1 percent to $6,121.50 per metric ton.
Gold dropped 0.8 percent to $1,219.00 an ounce.
--With assistance from Vildana Hajric and Eddie van der Walt.
To contact the reporters on this story: Randall Jensen in New York at rjensen18@bloomberg.net;Sarah Ponczek in New York at sponczek2@bloomberg.net
To contact the editors responsible for this story: Jeremy Herron at jherron8@bloomberg.net, Todd White