Asia Hedge Funds Lost Big in '18, But Some Still Pulled in Money
WT Asset, Ovata, and Navik are among the firms that attracted funds.
(Bloomberg) -- After the Asia hedge-fund industry's biggest losing year since 2008, investors could be forgiven for thinking the smart money has lost its touch.
But there were some regional-focused firms that attracted capital -- about one-third of Asia funds saw net inflows in 2018 (and just under 30 percent had positive returns), Eurekahedge data show. Both those figures however are the lowest since at least 2014.
Being a former trader with a big-name company helped, as did being one of the few who made money. Others benefited from a shift in investor preference toward private investments, with volatility expected to remain a theme in public markets in 2019.
Commitments to a fund managed by Charismatic Capital, which lends to shareholders of listed companies in Asia using pledged stock as security, tripled to $300 million since September, according to Chief Investment Officer Ching Ching Lam, an ex-private banker.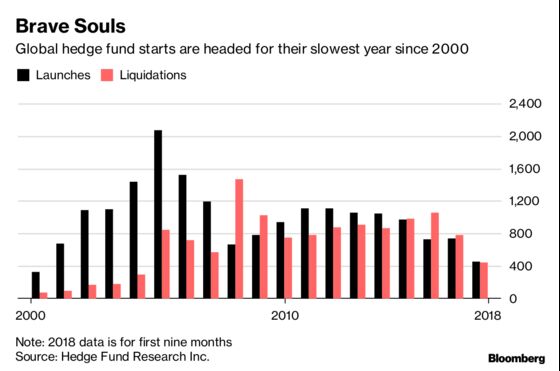 There's also less choice for investors wanting to put money into a hedge fund. New starts globally are headed for an 18-year low, and several veterans including Philippe Jabre and Leon Cooperman quit the industry last year.
Here are some of the firms that landed capital in 2018, according to people with direct knowledge of their operations:
WT Asset Management Ltd. in Hong Kong, which expanded assets to around $500 million from $68 million at the beginning of 2018. Led by Wang Tongshu, whose former employer Tairen Capital Ltd. has proven itself one of the rare China-focused managers capable of making money in both bull and bear markets, WT captured investors' attention with a full-year return net of fees of 28.5 percent
Ovata Capital Management Ltd., also based in Hong Kong. Assets rose to more than $700 million over a 12 month period. Ovata is helmed by James Chen, who used to head Bluecrest Capital Management LLP's Asia equities team
Singapore's Makrana Capital Management Pte, which opened in July with $150 million of institutional capital
APS Asset Management Pte, which had a $250-million-mandate win for its China A strategy from a European investor, and attracted $120 million to its Japan fund
Ayan Sen's Navik Capital (Singapore) Pte, which reached its 2018 fundraising target of $200 million. Sen started the firm in April with $400 million from Izzy Englander's Millennium Management LP, where he also used to work
Optimas Capital Ltd., a Hong Kong-based hedge fund firm led by former Credit Suisse Group AG banker Thomas Wong, saw assets swell to $450 million last year after investors added more than $100 million of new money. Its stock hedge fund returned 16.5 percent in 2018
To contact the reporter on this story: Bei Hu in Hong Kong at bhu5@bloomberg.net
To contact the editors responsible for this story: Katrina Nicholas at knicholas2@bloomberg.net, Paul Panckhurst