Cathie Wood's ARKK Flirts With 2-Year Low as Short Sellers Eye Possible Bounce
Cathie Wood's ARKK Flirts With 2-Year Low as Short Sellers Eye Possible Bounce
(Bloomberg) -- Cathie Wood's flagship fund is approaching a two-year low, though short sellers appear to expect that the decline won't last much longer. 
Bearish investors of the Ark Innovation ETF (ticker ARKK) have allowed their short exposure to decrease, suggesting that some are anticipating a possible reversal of the fund, according to S3 Partners, a technology and data analytics firm.
Over the last 30 days, as ARKK has fallen, short interest in the fund has decreased in market value by $205 million, S3 said. While there's been new short selling, it amounted to $1.4 million, not enough to offset the decline in market value.
"If their conviction was still as strong as earlier, they would have kept their short exposure flat or increased it," said Ihor Dusaniwsky, head of predictive analytics at S3. "By letting it decrease, they are allowing the market to lessen the total value of their short bets."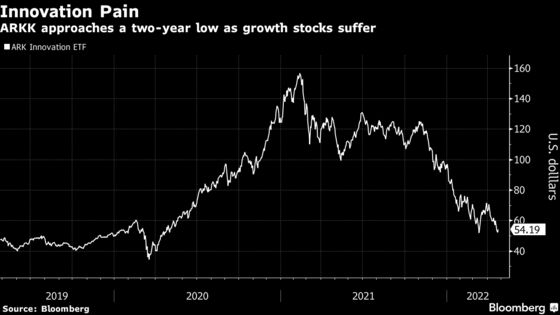 After beating much of the U.S. market in 2020, Ark's exchange-traded funds have struggled to keep up the performance. They've plummeted since last fall, facing pressure from high inflation prints and the start of monetary tightening. ARKK was up about 3% Monday.
Short activity across Ark's family of ETFs also signals waning conviction by bearish investors. While short interest in the funds climbed in 2021 by $2.8 billion, it's decreased on net this year by $692 million, according to S3.
Growth-oriented securities broadly continue to face a challenging outlook, though, said Michael O'Rourke, chief market strategist at JonesTrading.
"Expensive valuations have been fueled by more than a decade of extraordinary monetary policy accommodation. During that time when volatility would uptick, the Fed would respond to support markets," he said. "Given the current inflation environment, the Fed, nor the market, have that luxury."