Metals Rebound on Signs Delta-Driven Demand Fears Are Overblown
(Bloomberg) -- Copper climbed for a fourth day in London amid signs of resilient demand, while aluminum traded near the highest level in more than three years as supply disruptions tighten the market.
Base metals have rebounded this week as China's success in containing a sprawling Covid-19 outbreak shored up confidence in the demand outlook. Indicators in the physical market suggest the country's appetite for copper is picking up rapidly.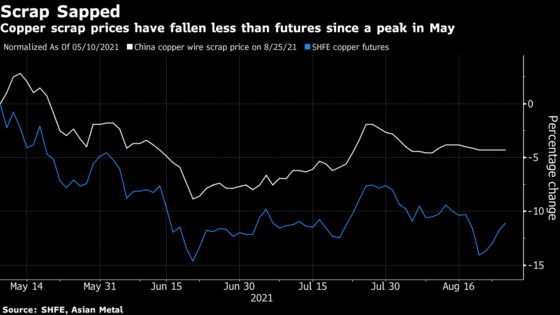 There are also signs that the slump in prices last week is enticing consumers back to the market, while simultaneously discouraging suppliers of copper scrap from making sales. By the end of last week, high-grade copper scrap in China was trading at a premium to refined metal, indicating that scrap supply had rapidly dried up, according to BMO Capital Markets. In turn, high scrap prices and a lack of availability could boost demand for refined metal.
"That dynamic is obviously unusual and doesn't make economic sense, but it's a sign that perhaps the selloff was getting ahead of fundamentals," Colin Hamilton, managing director for commodities research at BMO, said by phone from London. "We do have some initial signs that Chinese buyers have stopped destocking and are coming back to the market."
Aluminum also moved closer to a decade-high above $2,700 a ton, propelled by a global economic recovery that's expected to fuel purchases of goods ranging from automobiles to toasters. The metal has surged 33% this year -- second only to tin among the six base metals traded on the London Metal Exchange -- as bets that top producer China will curb supply to cut emissions also lend support. In the near term, power rationing in the Asian nation is expected to further squeeze output. 
In the latest development, a major fire at a Jamaican alumina refinery is expected to tighten the market for a key feedstock for aluminum smelters, potentially eating into margins that have swelled during the metal's rally.  
Aluminum rose 0.7% to $2,633 a ton on the LME, near the $2,642 it hit on July 30, the highest level since April 2018. In Shanghai, the metal rose as much as 1.4% to 20,705 yuan a ton, the highest since 2008. 
Copper rose 0.4% to $9,410 a ton, taking this week's gain to 4.1%. All metals moved higher, with lead pacing gains with a 1.5% increase.