Activist Investor Forces RWE to Vote on Lignite Spinoff Plan
(Bloomberg) -- Activist investor Enkraft Capital has launched a proxy contest for a potential spinoff of German energy firm RWE AG's lignite operations, a move it says would see shareholders realize 16 billion euros ($17.6 billion) in value.
Investors will get to vote on whether RWE should initiate preparations for a spinoff of its massive lignite operations at the upcoming shareholder meeting, according to an addendum to the AGM agenda RWE published on its website Tuesday.
RWE shares gained as much as 1.5% to 37.91 euros and were trading 1.3% higher at 12:25 p.m. local time.
The call for a vote over the lignite operations, which could be distributed to RWE shareholders as a dividend in-kind, heralds a showdown between Enkraft and RWE at the meeting on April 28. The activist investor has argued RWE should offload its lignite business to improve its climate credentials.
Under German law, any investor owning more than 500,000 euros in share capital can force a company to put items on the AGM agenda so shareholders can cast a binding vote on it.
In this case, RWE's management would have to comply and initiate preparations for a breakup if at least 75% of the shareholder base present at the AGM vote in favor of the motion. If agreed on, investors in the German company would end up holding stocks in a separate lignite company as well.
Alternatively, RWE could separate the operations and hand it over to a state-controlled foundation, a structure Germany's ruling traffic-light coalition is looking into.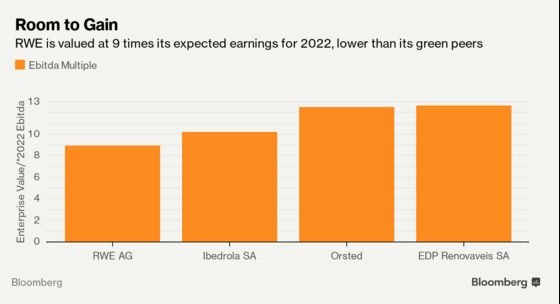 Enkraft, which says it holds over 600,000 shares, called on RWE to add a "resolution on the accelerated implementation of the sustainability strategy" to the agenda, according to a written request it sent to the German utility that was seen by Bloomberg News.
"ESG campaigns will increase in frequency as more activist funds include ESG metrics in their target analysis. It also remains a key issue among passive shareholders, in particular the index funds," Barclays Capital said in an activism note earlier this year.
Enkraft's request also says it's incomprehensible that RWE's executive and supervisory boards haven't created a plan to separate lignite power production, especially as "the current situation and Russia's war in Ukraine highlight the urgent need to not only reduce Germany's dependence on Russian energy imports, but also to in general reduce dependence on international energy imports."  
Because renewable energy companies are trading on a higher earnings multiple, a separation of lignite open-cast mines and power plants would result in an upside of 20 euros or more for RWE shares, Enkraft said.
RWE Coal Spat With Activist Investor Intensifies Ahead of AGM
While RWE is supportive of the plan to separate lignite operations, it wants the German government to first announce key aspects of an early phaseout, Bloomberg News reported earlier.
State Secretary Oliver Krischer, in Germany's Green Party-led economic ministry, told Radio Rur on Monday that he "urges RWE and its investors to invest in renewable energy" and that he supports breaking off the company's lignite operations from its balance sheet. 
Coal companies in Germany agreed two years ago to receive billions from the state to close all plants by 2038. Shuttering assets earlier would require further compensation, which could be achieved by allowing firms to offload the responsibility of environmental rehabilitation of mines to a foundation. 
One of the formats being considered would see companies transfer money directly to the foundation in the amount equivalent to the estimated future cost of the cleanup and maintenance.