Stocks Fall on Politics and Trade Risks; Oil Gains: Markets Wrap
Yen Edges Up, Asia Stocks Face Drop on Trade Woes: Markets Wrap
(Bloomberg) -- Stocks slipped on growing concern about the outlook for global trade and U.S. politics. Oil rallied toward a four-year high.
Industrial shares led the S&P 500 Index lower after China warned it won't meet with American officials unless they stop threatening to expand tariffs, while reports that Deputy Attorney General Rod Rosenstein will leave his post also weighed on stocks. The Nasdaq 100 eked out a gain as the largest tech shares advanced. Comcast Corp. plunged after agreeing to buy Sky Plc.
European sovereign bond yields jumped as Central Bank President Mario Draghi predicted a pickup in underlying inflation. Automakers were the worst performers as the Stoxx Europe 600 fell.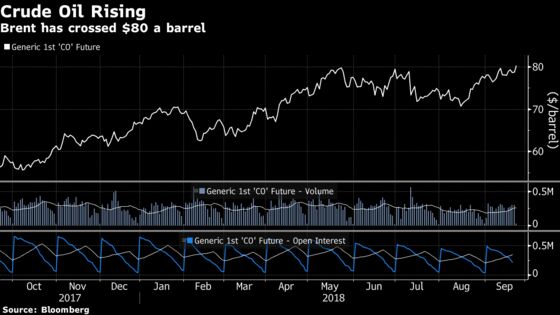 An uptick in political tensions and the escalation in cross-Pacific trade tensions are testing global equities, which have posted two strong weeks of gains in part due to optimism that economies can weather any potential tariffs. JPMorgan Chase & Co. said it's starting to factor into its strategy a growing potential for a "Phase III" of the tariff war next year affecting all Chinese imports, which would lead to weaker growth in the country and hit U.S. stocks.
"Geopolitical disruption can certainly grab headlines and rock capital markets in the short term," said Kristina Hooper, chief global market strategist at Invesco Ltd. "However, I continue to caution that investors focus on the geopolitical disruption that actually has the potential to impact fundamentals – and that is trade. Everything else is just noise."
Coming up this week is the Federal Reserve's policy meeting that will likely see interest rates increased for the third time this year, with markets increasingly pricing for another one in December.
Elsewhere, Hong Kong stocks fell as holidays in China and Japan reduced volume. Indian shares and the rupee slid as cracks appear in Asia's best-performing stock market this year amid concerns about troubles in the non-bank financial sector. Emerging-market shares weakened and their currencies edged lower.
Brent crude climbed above $80 a barrel as OPEC and its allies signaled less urgency to boost output despite U.S. pressure. The pound strengthened on increasing talk of a second U.K. referendum on the final Brexit deal.
Terminal users can read our Markets Live blog.
Here are some key events coming up this week:
Japanese Prime Minister Shinzo Abe meets with President Donald Trump in New York to discuss trade.
The Fed decision on Wednesday will be followed by a press conference with Chairman Jerome Powell.
Thursday sees durable goods, GDP data and jobless claims for the U.S.
These are the main moves in markets:
The S&P 500 Index fell 0.4 percent as of the close of trading in New York; the Nasdaq Composite rose 0.1 percent while the Dow Jones Industrial Average slid 0.7 percent.
The Stoxx Europe 600 Index sank 0.6 percent.
The MSCI All-Country World Index dipped 0.5 percent.
The MSCI Emerging Markets Index decreased 1.1 percent, the first retreat in a week.
The Bloomberg Dollar Spot Index rose 0.2 percent.
The euro was little changed at $1.1746.
The British pound added 0.3 percent to $1.3113.
The Japanese yen slipped 0.2 percent to 112.77 per dollar.
The Turkish lira surged 2.5 percent to 6.1388 per dollar.
The yield on 10-year Treasuries increased two basis points to 3.08 percent, hitting the highest since May.
Germany's 10-year yield increased five basis points to 0.51 percent.
Britain's 10-year yield rose six basis points to 1.61 percent.
The Bloomberg Commodity Index gained 0.5 percent to the highest in six weeks.
West Texas Intermediate crude climbed 2.1 percent to $72.26 a barrel, approaching the highest in almost four years.
Copper fell 1.1 percent to 2.8265 per pound.
Gold slipped 0.1 percent to $1,198.85 an ounce.
--With assistance from Adam Haigh, Christopher Anstey, Eddie van der Walt and Yakob Peterseil.
To contact the reporters on this story: Brendan Walsh in Austin at bwalsh8@bloomberg.net;Sarah Ponczek in New York at sponczek2@bloomberg.net
To contact the editors responsible for this story: Jeremy Herron at jherron8@bloomberg.net, Brendan Walsh