China's Stocks Drop to Lowest Level in Nearly Four Years
Shanghai's benchmark gauge closes at weakest since 2014.
(Bloomberg) -- China's sinking stock market reached an unwelcome milestone, with the Shanghai Composite Index closing at the lowest level since 2014, erasing the last traces of its recovery from a boom that turned into a $5 trillion bust.
The Shanghai gauge dropped 1.1 percent to 2,651.79, below its January 2016 bottom. Back then, officials had just introduced and then hastily scrapped a disastrous circuit-breaker program as they grappled with one of the market's worst-ever routs.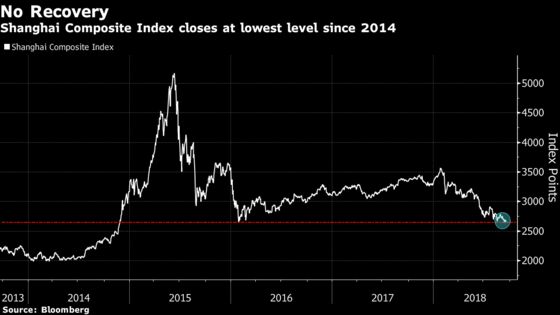 While it's been a slower burn this time round, the steady losses show that sentiment toward Chinese equities hasn't recovered from the 2015-2016 crash. Turnover is dwindling and some companies are finding themselves cut off from equity financing, forcing them to raise more debt. The benchmark index is heading for a fourth quarter of losses, its longest string of declines since 2008.
The malaise in Chinese equities contrasts with gains for global stocks. The MSCI All-Country World Index is up 21 percent since Nov. 27, 2014, while the S&P 500 Index has handed investors a 40 percent rally.
Trade tensions with the U.S. are exacerbating investor concern. With President Donald Trump telling aides to proceed with additional tariffs on Chinese products, the Chinese government is considering declining an offer of talks, according to a Wall Street Journal report, which cited officials with knowledge of the discussions.
"It's hard to buy Chinese stocks even if they sell down" given the trade war and weak company fundamentals, said Toshihiko Takamoto, a Singapore-based money manager at Asset Management One. "Even if the valuation gets cheaper, there's a reason for that. It's hard to find factors that would spark a sharp rebound."
A weaker yuan also makes the nation's shares less attractive. China's currency has fallen almost 7 percent since the end of March amid speculation the government was trying to counter the impact of U.S. tariffs.
This year's hefty declines -- the Shanghai gauge is down 20 percent in 2018 -- ends a period of relative stability for the stock market that began with the appointment of Liu Shiyu as the top securities regulator in early 2016 after his predecessor Xiao Gang was blamed for the crash. Under Liu, the stock index climbed 32 percent from the end of February 2016 though its high in January this year.
The latest plunge in Chinese equities will likely increase the appeal of other speculative assets such as property, undermining the government's efforts to make the stock market a steady base for companies to raise funds.
--With assistance from Ron Harui and Will Davies.
To contact the reporter on this story: Kana Nishizawa in Hong Kong at knishizawa5@bloomberg.net
To contact the editors responsible for this story: Richard Frost at rfrost4@bloomberg.net, Sarah McDonald