The `Hindenburg Omen' Is Stalking Near-Record U.S. Stock Market
(Bloomberg) -- Warnings from Wall Street are coming thick and fast as U.S. stocks sit near all-time highs. The latest, from Sundial Capital Research Inc., points to a (controversial) group of potentially bearish technical signals known as the Hindenburg Omen.
Deteriorating breadth in share gains and a jump in the number of individual stocks falling to 52-week lows has triggered a warning flag every day for over a week, Jason Goepfert, the firm's president, told clients. On both the New York Stock Exchange and the Nasdaq there have been eight of these technical patterns over the past six sessions, he said, the biggest cluster since 2014 and the third-longest stretch in 50 years.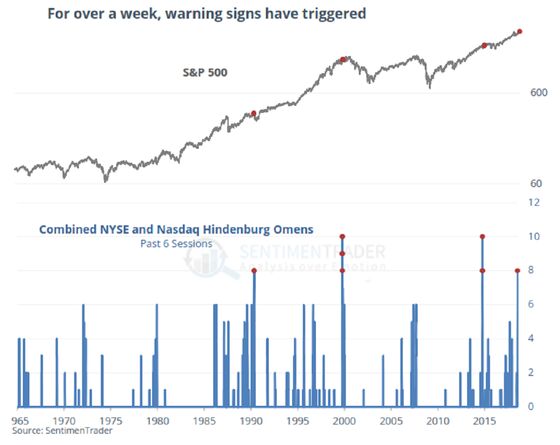 The indicator, named after the German zeppelin that caught fire and crashed more than eight decades ago, gauges indecision in the market and is designed to predict a decline within 40 days. While it has a mixed track record and has been derided in some corners of Wall Street, references to the Hindenburg Omen in investment-bank research still trigger discussion.
Goepfert says it's rare to see this number of clusters so close together on both exchanges and, in the past, they preceded declines. The median two-month decline after similar clusters was 2.2 percent, he calculated. Consumer staples and health-care stocks performed best, with technology shares lagging behind, he said.
The S&P 500 Index is up 8 percent this year, helped by an American economy on track for its fastest growth since 2005 and a surge in tech stocks. It's now a little less than 1 percent below the all-time high reached in August.
To contact the reporter on this story: Cormac Mullen in Tokyo at cmullen9@bloomberg.net
To contact the editors responsible for this story: Christopher Anstey at canstey@bloomberg.net, Adam Haigh