Emerging-Market Contagion Fear Sparks Deepening Rout: Inside EM
MSCI Inc.'s index of currencies dropped for a fifth time in six days, the lowest close in more than a year.
(Bloomberg) -- Emerging markets sold off anew Tuesday as South Africa entered a recession and Indonesia's rupiah joined currencies from Turkey to Argentina in tumbling toward record lows, reinforcing concern that contagion risks are too big to ignore.
MSCI Inc.'s index of currencies dropped for a fifth time in six days, the lowest close in more than a year. The rand led global declines as data showed the economy fell into a recession last quarter. Turkey's lira slid on worry the central bank will disappoint investors at its rate meeting next week, while the Argentine peso slumped to a record and Indonesia's rupiah sank to the lowest in two decades even after the central bank intensified its fight to protect it.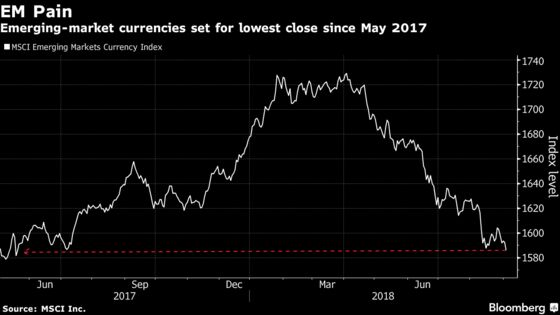 The dollar extended its advance to a fourth day as Donald Trump threatened to ramp up a trade dispute with China with an announcement of tariffs on as much as $200 billion in additional Chinese products as soon as Thursday. As U.S. rates rise, investor fears over idiosyncratic risks in emerging markets have climbed, including Argentina's fiscal woes, Turkey's twin deficits, Brazil's contentious elections and South Africa's land-reform bill.
Meantime, the dollar is winning by default, according to Kit Juckes, a global strategist at Societe Generale SA.
"There's not much to make me think the dollar should be going up, but there's plenty to make me nervous about other currencies," Juckes said. "The dollar is very strong and lacking rate support, but other currencies are worse."
HIGHLIGHTS:
The rand plunged 3.2 percent after a report showed the economy slid into a recession for the first time since 2009. GDP shrank an annualized 0.7 percent last quarter from the prior three months.
The lira sank 0.7 percent and Mexico's peso weakened 1.1 percent.
Argentina's peso slid to a fresh record low. 
Indonesia's rupiah fell for a sixth day, sinking to a two-decade low; USD/IDR 1-month NDFs rose 1.5% to 15277, a record high, while 1-month implied volatility jumped to the highest since November 2016.
USD/Indian rupee 1-month NDFs rose as much as 0.8% to 72.03, all-time high; volumes were very active, almost 50% higher than recent turnover.
CBOE's emerging-market volatility gauge rose to the highest in almost three weeks.
MSCI's index of EM stocks dropped for a fifth day; MSCI's currency measure slipped 0.6 percent, the most in almost a month.
Russia's ruble pared most of its losses after the central bank edged closer to raising interest rates for the first time since 2014.
JPMorgan Survey Shows How Quickly Emerging Markets Can Unravel
Summer Blues Spur 50% Slump in Emerging-Market Bond Sales: Chart
Contagionists May Be Missing Point on Turkey and Argentina
Kazakhstan Coy on Currency Interventions as EM Retreat Deepens
Here's what other analysts are saying about the latest in emerging markets:
Anastasia Amoroso, a global investment strategist at JPMorgan Private Bank in New York
Emerging markets is the best asset class for the long-term due to growth potential, but the time hasn't come yet to start buying
As long as trade wars continue and the Fed hikes at a runaway pace versus the rest of the world, dollar strength will persist
Tsutomu Soma, general manager for fixed-income trading at SBI Securities Co. in Tokyo:
"The measures announced by Argentina and Turkey are probably not enough to lead to a significant improvement in their fundamentals"
"Contagion risks to other emerging markets are growing especially as the Fed tightens"
Michael Every, head of Asia financial markets research at Rabobank in Hong Kong:
"Emerging-market FX are set to suffer almost regardless of what they do, the only issue is how much"
The dollar will remain on the front foot against emerging markets as long as the U.S. continues to raise rates and boost fiscal spending while keeping the trade war fears on the radar
Lukman Otunuga, research analyst at FXTM in London:
"Emerging market currencies could be destined for further pain if the turmoil in Turkey and Argentina intensifies"
"The combination of global trade tensions, a stabilizing U.S. dollar and prospects of higher U.S. interest rates may ensure EM currencies remain depressed in the short to medium term"
Stephen Innes, head of Asia Pacific trading at Oanda Corp. in Singapore:
Argentina's measures are "likely a day late and a penny short"
"These moves are a step in the right direction, but they're unlikely to be convincing enough to remove currency speculators from the driver's seat. I guess it's all down the IMF's 'White Knight' to the rescue. However, we are getting into the realm of unquantifiability which makes the market utterly untradable"
Masakatsu Fukaya, an emerging-market currency trader at Mizuho Bank Ltd. in Tokyo:
Contagion risks from Argentina and Turkey are growing for other emerging markets and economies with weak fundamentals such as those with current-account deficits and high inflation rates
Currencies of countries such as Indonesia, India, Brazil and South Africa have been among most vulnerable
The Fed's rate increases and trade frictions means the underlying pressure on emerging currencies is for a further downward move
To contact Bloomberg News staff for this story: Tomoko Yamazaki in Singapore at tyamazaki@bloomberg.net;Yumi Teso in Bangkok at yteso1@bloomberg.net;Lilian Karunungan in Singapore at lkarunungan@bloomberg.net;Ben Bartenstein in New York at bbartenstei3@bloomberg.net
To contact the editors responsible for this story: Justin Carrigan at jcarrigan@bloomberg.net, Alec D.B. McCabe
With assistance from Editorial Board
Get Your
Daily Newsletter
Get market moving news, top news & compelling perspectives
---