No One Loves Irrelevant, Tiring, Dull European Stocks These Days
No One Loves Irrelevant, Tiring, Dull European Stocks These Days
(Bloomberg) -- Spare a thought for the globe-trotting European stock salesman.
Europe's equities have seen 25 straight weeks of fund outflows, according to Bank of America-Merrill Lynch, wiping out all of 2017's inflows. It's the only region recording meaningful outflows this year -- even emerging markets, performing far worse, can't make that claim.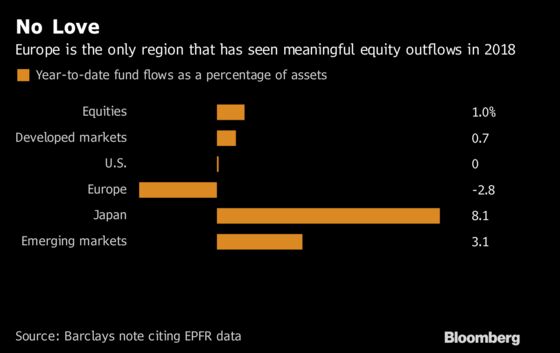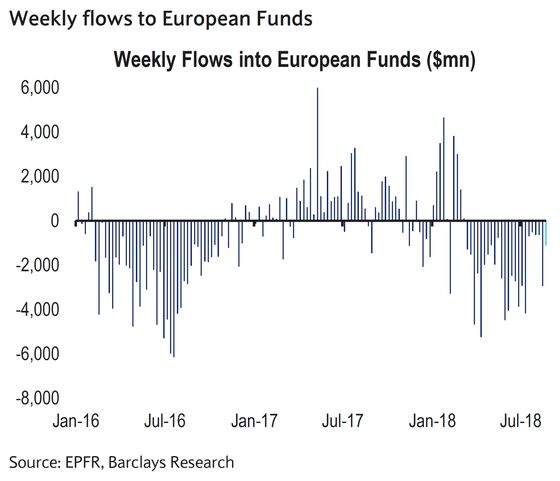 So why can't Europe get any love?
The push factors are obvious: from Brexit to the Italian budget, Europe is still a continent that has a reputation for in-fighting for global investors. At the same time, the pull factors are lacking: economic and earnings growth is decent but unimpressive and subject to the vagaries of U.S. President Donald Trump's trade policy. And there are no technology giants even buzz-worthy enough for an acronym.
"We've had a lot of bumps in the road in Europe," said Edmund Shing, global head of equity and derivative strategy at BNP Paribas SA in London. Investors "just get a bit tired of it."
But it's not always fair. "People sometimes paint too broad a brush-stroke in terms of Europe," he added. "There are some very strong stories."
Foreign cash matters, because global investors are often the marginal buyers of European stocks, since domestic investors put less money into equities than their American peers, Shing said. Global funds account for 24 percent of European stocks, whereas in the U.S., they own 15 percent, according to a Barclays report.
Investment performance, especially after conversion to the strengthening dollar, justifies the lack of enthusiasm, at least to an extent: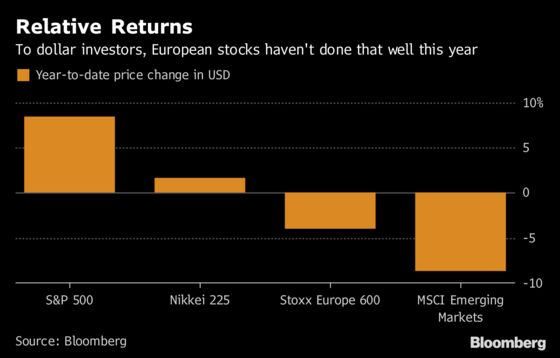 "Europe is not relevant or particularly interesting," said Peter Garnry, head of equity strategy at Saxo Bank A/S in Hellerup, Denmark. With a weak financial sector and a nearly non-existent technology industry, Europe's equity brand is "damaged," he added. Queries he receives from clients outside the region are mostly about U.S. technology and Chinese stocks -- not Europe.
Another thing that doesn't help is the chronic under-performance of value strategies. European shares tend to be seen as value investments in the U.S., BNP's Shing said, and global value stocks are close to the lowest they've been versus growth stocks since 2000.
Then there's trade. Even after a brief detente reached with the EU in late July, U.S. President Donald Trump said Thursday the bloc's trade practices are "almost as bad as China." He had earlier threatened to raise tariffs on European car imports.
UBS Group AG cut its forecast for the Stoxx Europe 600 on Friday, citing risks from emerging markets, trade tensions and Italy.
But not all hope is lost.
Remember last year? Money flooded into European equities when it was clear that the centrist Emmanuel Macron would win the French election. There may not be a similar knight in shining armor this year, but for inflows to revive, Italy has to first avoid a collision course with the EU over its budget. Then there are the Brexit talks where, even in the critical final phase, the outcome remains uncertain.
To global investors, Brexit is not just a matter of currency volatility, but also a systemic issue with contagion risks across Europe, said Emmanuel Cau, head of European equity strategy at Barclays in London.
"If you get fairly smooth budget negotiations in the next few weeks in Italy, that might help flows to find a floor," he said. "The biggest one is still Brexit, and I do think a lot of investors would be on the sidelines until they have clarity."
To contact the reporter on this story: Justina Lee in London at jlee1489@bloomberg.net
To contact the editors responsible for this story: Celeste Perri at cperri@bloomberg.net, Monica Houston-Waesch