Emerging-Market Carry Traders Have Their Worst August on Record
Emerging-Market Carry Traders Have Their Worst August on Record
(Bloomberg) -- August has historically been a cruel month for emerging markets. By one measure, this year's has been the worst on record.
A Bloomberg currency index that tracks carry-trade returns from eight emerging markets, funded by short positions in the dollar, has slumped about 6 percent since end-July, set for its biggest August drop since Bloomberg started compiling the data in 1999.
While a hawkish Federal Reserve boosted the dollar to a 14-month high this month, currency crises from Turkey to Argentina and China's trade war with the U.S. dented demand for riskier assets. Turkey's lira, Argentina's peso, Brazil's real and South Africa's rand were the hardest hit developing-nation units, cutting returns for investors who borrow where interest rates are low to buy higher-yielding assets.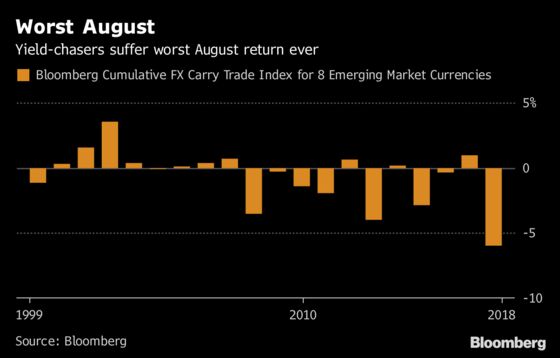 August has often seen violent moves as many market participants leave for their summer vacation. As the ability to buy and sell assets declines with thin trading, market shocks can lead to exaggerated price swings. Often, policy makers are also out of play, which means investors won't have the policy response they would expect at other times of the year, said Richard Segal, senior analyst at Manulife Asset Management Ltd. in London.
"This year, weakness in Turkey and Argentina is feeding off each other," Segal said. "The fundamental attractiveness for emerging markets does not change and at lower levels, buyers will return, as they always have when perceptions of volatility subside."
The cost of insuring against a default by developing nations for five years had its biggest August spike since at least 2007, according to the Markit CDX Emerging Markets Index.
By a few other measures, it's been the most painful August since 2015, when China's yuan devaluation sent shockwaves through markets. These include:
The MSCI Emerging Markets Currency Index, down 2 percent
MSCI's gauge for developing-nation equities has slumped 2.1 percent
JPMorgan Chase & Co's gauge of expected swings in developing-nation currencies, up 22 percent
Citigroup Inc.'s emerging-market risk aversion index rose 194 percent this month
"No one wants to be a hero during August," Manulife Asset's Segal said.
To contact the reporters on this story: Netty Ismail in Dubai at nismail3@bloomberg.net;Filipe Pacheco in Dubai at fpacheco4@bloomberg.net
To contact the editors responsible for this story: Dana El Baltaji at delbaltaji@bloomberg.net, Robert Brand, Paul Wallace