U.S. Stocks Add to Records, Treasuries Slump: Markets Wrap
Asian Stocks Set for More Gains; Dollar Declines: Markets Wrap
(Bloomberg) -- U.S. stocks eked out a gain to claim a fresh closing record, while Treasury yields climbed as investors assessed the latest developments from the Trump administration's trade policies.
The S&P 500 fluctuated throughout the day, rising past 2,900 for the first time before slipping back below that level. Technology stocks paced the advance, giving the Nasdaq indexes new records. Rate-sensitive shares retreated as the 10-year Treasury yield moved toward 2.90 percent. The Mexican peso failed to hold onto Monday's gains as investors clamored for details and clarity on where a new trade agreement with the U.S. leaves Canada.
Carmakers and miners were the biggest winners in the Stoxx Europe 600 Index. Equities in Japan rose while those in China slipped. The yuan climbed after the country's central bank strengthened the daily fixing against the greenback by the most in more than 14 months.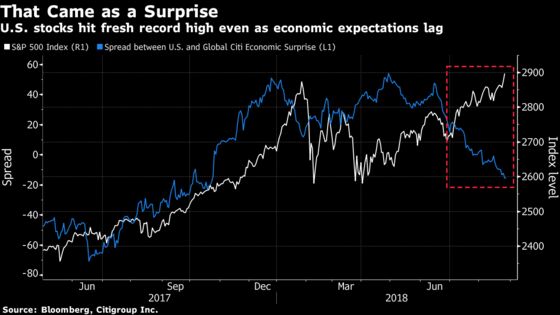 Optimism around the U.S.-Mexico deal is helping shift the news agenda in markets in the wake of Trump's legal woes last week, while the Federal Reserve's outlook has also boosted sentiment. Gains for risk assets remain fragile, however, as hopes for a similar trade breakthrough between America and China fade and a host of threats remain, from U.S. relations with Russia and North Korea to Chinese growth prospects.
"On a broad sense, if markets were worried about trade tensions and trade talks escalating into full-blown wars at least this is one sign that there is a cooling off period and that some parts of the global trade space will still be connected and as free markets would hope," said Nandini Ramakrishnan, global market strategist at JPMorgan Asset Management. "Another good example: European discussions this summer came down to a very conciliatory, almost non-issue."
Terminal users can read more in our Bloomberg Markets Live blog here.
Here are some key events coming up this week:
Earnings are due from companies including Canada's largest banks and China Construction Bank Corp., Pernod Ricard and Dollar General.
China's official factory PMI are due Friday.
The U.S. economy probably grew in the second quarter at a slightly slower pace, economists predict ahead of Wednesday's report.
The Bank of Korea sets policy on Friday. Weak jobs growth has cooled speculation of an interest-rate increase.
These are the main moves in markets:
The S&P 500 rose less than one point to a record 2,897.53 at 4 p.m. in New York.
The Stoxx Europe 600 Index gained 0.1 percent to the highest in almost three weeks.
The MSCI Emerging Market Index advanced 0.1 percent.
The MSCI Asia Pacific Index climbed 0.4 percent to the highest in almost three weeks.
The Bloomberg Dollar Spot Index rose 0.2 percent.
The euro climbed 0.1 percent to $1.1694.
The Japanese yen slipped 0.1 percent to 111.210 per dollar.
The Mexican peso dropped 1.7 percent to 19.0985 per dollar.
The yield on 10-year Treasuries three three basis points to 2.88 percent, the highest in more two weeks.
Germany's 10-year yield rose less than one basis point to 0.38 percent.
Gold futures fell 0.7 percent to $1,207.60 an ounce.
Brent crude dropped 0.3 percent to $75.96 a barrel.
--With assistance from Andreea Papuc and Eddie van der Walt.
To contact the reporter on this story: Jeremy Herron in New York at jherron8@bloomberg.net
To contact the editors responsible for this story: Jeremy Herron at jherron8@bloomberg.net, Samuel Potter