PBOC Joins Forces With Powell to Hit the Brakes on Dollar Rally
(Bloomberg) -- The People's Bank of China and Federal Reserve delivered a one-two punch to the dollar Friday, spurring the biggest selloff in a month and raising the specter of further weakness ahead.
The PBOC announced that banks would resume using the "counter-cyclical" factor when calculating the yuan's daily reference rate, restraining the influence of market forces that have been driving the currency lower versus the greenback. Roughly three hours later, Federal Reserve Chairman Jerome Powell gave foreign-exchange traders another reason to sell the dollar, saying he sees little sign of inflation accelerating above the central bank's 2 percent target.
China's fixing adjustment in tandem with Powell's dovish tone on price pressures fueled a decline of as much as 0.7 percent for the greenback Friday. The PBOC move to inject stability into the dollar-yuan rate will reverberate across the emerging-market currency landscape, slowing further greenback gains, according to Brad Bechtel, a managing director at Jefferies Group LLC.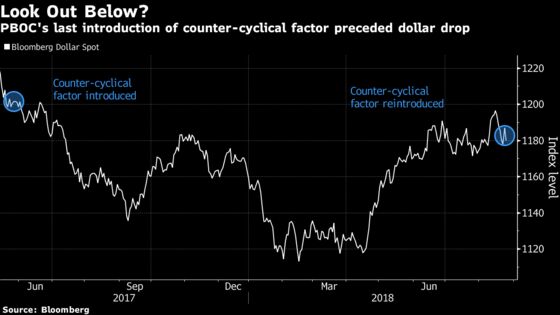 "Any dollar-yuan rallies will be a lot less punchy and a lot more gradual, so it will have a dampening effect," Bechtel said. "It provides stability to the entire Asian-EM complex. It does help cap the rally in the dollar, or at least stall it."
The yuan has slid more than 6 percent against the greenback since mid-June as the two countries square off in a protracted trade war, helping fuel broad dollar gains and stoking the ire of U.S. President Donald Trump. The PBOC last introduced a counter-cyclical factor to the yuan's fixing in May 2017, helping spark a 3.5 percent decline in the dollar over the remainder of the year.
Beijing had suspended use of the factor in January, a move interpreted to mean that policy makers had grown more comfortable with the yuan's trajectory after several months of gains against the dollar.
The offshore yuan rallied as much as 1.4 percent Friday, the most since January 2016, briefly falling below 6.80 per dollar. It was trading at 6.8032 versus the greenback as of 3:35 p.m. in New York.
Friday's move comes after two days of U.S.-China trade negotiations. While talks concluded with no clear resolution, the timing suggests that perhaps China agreed to "behave a little better on the currency front," according to Bechtel. Heading into the meeting, Trump had repeatedly accused China of manipulating the yuan.
"I'm not sure it'll be enough the ease the tensions, but it's an olive branch none the less," Bechtel said.
--With assistance from Ye Xie.
To contact the reporter on this story: Katherine Greifeld in New York at kgreifeld@bloomberg.net
To contact the editors responsible for this story: Benjamin Purvis at bpurvis@bloomberg.net, Boris Korby, Jenny Paris