U.S.-China Talks Draw a Blank, Bringing Fresh Tariffs Into View
Closely watched trade talks between the U.S. and China wrapped up on Thursday with no major progress.
(Bloomberg) -- The trade war between the U.S. and China is primed to escalate after their governments failed to make progress in two days of talks.
The two sides had met with low expectations for this week's meetings and no further talks had been scheduled, a person familiar with the discussions said. The person, who requested anonymity to discuss the private deliberations, also said Chinese officials had raised the possibility that no further negotiations could happen until after November's mid-term elections in the U.S.
The lack of progress and the looming prospect of further tariffs from both sides adds to the uncertainty for businesses, who have to decide whether it makes sense to invest in China or the U.S., given the rising political tensions and risk of punishing new taxes on trade. A new round of tariffs could come as soon as early September, but there is no guarantee that will be the last, or that there won't be other measures.
"Now, it seems quite likely that the US will impose tariffs on the $200 billion in imports from China, which will trigger a bigger round of shooting," said Zhou Xiaoming, a former commerce ministry official and diplomat. "It is impossible for China to drop the 'Made in China 2025' and its industrial policies as a compromise. But there is haggling room in IP protection and market access issues," he said, referring to intellectual property protection.
In a statement, the White House said the countries "exchanged views on how to achieve fairness, balance, and reciprocity in the economic relationship, including by addressing structural issues in China" identified by the U.S. in an investigation into Chinese IP practices. The two nations had "constructive, candid" communication, and will keep in touch about the next steps, the China commerce ministry said in a statement released Friday.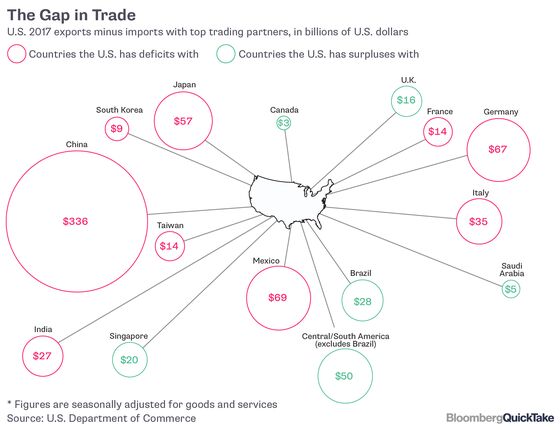 The conclusion of the talks came just hours after Beijing and Washington rolled out their latest round of tit-for-tat tariffs on Thursday.
The Trump administration is preparing a far larger tranche of tariffs covering some 6,000 products from China with an annual import value of $200 billion. That move and the anticipated retaliation from the Chinese would mark the largest escalation so far and start to hit American consumers more directly. The U.S. could impose the duties after a comment period ends Sept. 6.
The two days of talks led by U.S. Treasury Undersecretary for International Affairs David Malpass and Vice Commerce Minister Wang Shouwen marked the first major interaction between the two sides since June. According to the person familiar with the discussions, the U.S. Treasury presented a revised version of the provocative list of demands presented by the Trump administration when the two sides had their first high-level meetings in May.
The Chinese delegation, meanwhile, showed no signs of bringing any significant compromises to the table this week. Chinese officials have told visitors to Beijing that they see their potential responses as broken down into three separate baskets, the person said.
Additional purchases aimed at satisfying President Donald Trump's desire to reduce the trade deficit amount are one that China could deliver quickly. The second includes more substantive reforms that in many cases are already in train, such as opening up China further to U.S. credit card companies. China officially removed limits on foreign holdings in domestic banks and asset management companies, it announced late Thursday.
But the third basket of more difficult reforms, such as to industrial policy, are considered a no-go zone by Chinese policy makers, the person said.
A deal is almost impossible now, as Trump's domestic political scandals may cause him to be more aggressive on foreign policy, according to Mei Xinyu, a researcher at the Chinese Academy of International Trade and Economic Cooperation affiliated with the Ministry of Commerce. "For China, the most important thing now is to fix its domestic weaknesses, and get prepared for the worst-case scenario of a protracted trade war with the U.S."
Even relative doves inside the Trump administration have begun pressing for China to make significant structural reforms by unwinding industrial subsidies and at least scaling back its "Made in China 2025" plan to lead the world in industries such as artificial intelligence and robotics. Yet the Chinese side has continued to offer only increased purchases of American commodities aimed at reducing the U.S. trade deficit, believing that is the best tactic to try and see off further U.S. tariffs, said the person familiar with the discussions.
Trump on Thursday highlighted new tougher restrictions aimed at Chinese investment in the U.S. at a White House event and said he was committed to continuing his trade fight against China. "We can't allow the things that were happening to happen," Trump told a meeting with legislators.
U.S. officials are due to meet in Washington on Friday with delegations from the European Union and Japan to discuss joint efforts to confront China at the World Trade Organization over its industrial subsidies and the conduct of its state-owned enterprises.
To contact Bloomberg News staff for this story: Shawn Donnan in New York at sdonnan@bloomberg.net;Justin Sink in Washington at jsink1@bloomberg.net;Mark Niquette in Columbus at mniquette@bloomberg.net;Miao Han in Beijing at mhan22@bloomberg.net
To contact the editors responsible for this story: Brendan Murray at brmurray@bloomberg.net, ;Malcolm Scott at mscott23@bloomberg.net, Jeffrey Black, James Mayger
With assistance from Editorial Board
Get Your
Daily Newsletter
Get market moving news, top news & compelling perspectives
---