U.S. Stocks Gain With Treasuries; Dollar Declines: Markets Wrap
Asia Stocks Set for Mixed Start; Dollar Holds Loss: Markets Wrap
(Bloomberg) -- U.S. stocks rose in thin volume as investors held onto hopes for an easing of the trade war, while Treasuries advanced ahead of a meeting of central bankers later this week.
The S&P 500 Index advanced for a third day to close within 15 points of a record. Equities pared gains in the final 15 minutes of trading after President Donald Trump said China and Europe manipulate their currencies, according to Reuters. Consumer-discretionary shares paced the day's advance.
Trump also hit the dollar with separate comments on the Federal Reserve, suggesting the central bank should refrain from raising rates. Chairman Jerome Powell speaks at a conference in Wyoming Friday. The 10-year Treasury yield declined to the lowest level in six weeks after Jeffrey Gundlach warned of a short squeeze.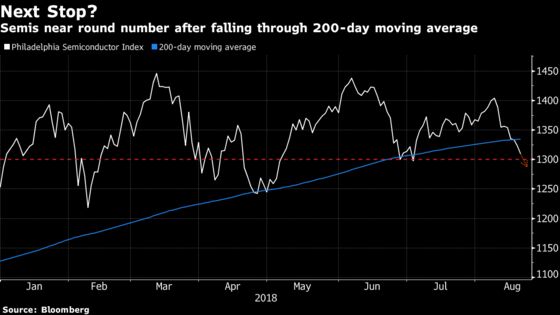 "Investors sentiment is on the bullish side, with investors figuring new all-time highs are just around the corner, especially if trade talks get going with China," Paul Nolte, a portfolio manager at Kingsview Asset Management, wrote in a note to clients. "Another hot late summer week on Wall Street and trading levels should be relatively low. The path of least resistance now is higher, but as we have seen, news flow is important."
Markets appear to be striking a more optimistic tone after talks between the world's biggest economies on trade made their way back onto the agenda. Meanwhile, investors will be closely watching this week's Jackson Hole symposium for clues on monetary policy, and to see whether central bankers can do anything to help bring back stability after the recent bout of emerging market-led volatility.
Elsewhere, the lira slipped for a second day. Turkish markets are closed for most of this week, which may mean low trading volumes and sharper currency swings than usual. Emerging-market stocks and currencies rose. The onshore yuan climbed amid signs China is propping up the currency.
Terminal users can read more in our Bloomberg Markets Live blog here.
Here are some key events coming up this week:
Companies announcing earnings include Alibaba, Royal Bank of Canada, Lowe's, Target, BHP Billiton, Qantas, Ping An and China's Bank of Communications.
Central bankers gather at the Kansas City Fed's annual Jackson Hole symposium, where Federal Reserve Chairman Jerome Powell speaks Friday.
The Fed releases the minutes from latest FOMC meeting on Wednesday.
These are the main moves in markets:
The S&P 500 Index climbed 0.2 percent to 2,857.05 as of 4 p.m. New York time.
The Stoxx Europe 600 Index advanced 0.6 percent.
The MSCI All-Country World Index increased 0.5 percent.
The MSCI Emerging Market Index gained 1.2 percent, the biggest gain in nearly a month.
The Bloomberg Dollar Spot Index fell 0.2 percent, its third decline in a row.
The euro rose 0.3 percent to $1.1467.
The Japanese yen gained 0.2 percent to 110.24 per dollar.
The Turkish lira fell 1.5 percent to 6.1063 per dollar.
The MSCI Emerging Markets Currency Index gained 0.4 percent, the biggest rise in almost four weeks.
The yield on 10-year Treasuries declined four basis points to 2.82 percent, the lowest since July 6.
Germany's 10-year yield was unchanged at 0.30 percent.
Britain's 10-year yield dipped two basis points to 1.22 percent.
The Bloomberg Commodity Index was little changed.
West Texas Intermediate crude rose 0.9 percent to $66.47 a barrel.
Gold climbed 0.4 percent to $1,189.30 an ounce.
--With assistance from Eddie van der Walt.
To contact the reporters on this story: Randall Jensen in New York at rjensen18@bloomberg.net;Sarah Ponczek in New York at sponczek2@bloomberg.net
To contact the editors responsible for this story: Jeremy Herron at jherron8@bloomberg.net, Samuel Potter