Tencent Slump Shows What Happens When Beijing Flips the Switch
Tencent Slump Shows What Happens When Beijing Flips the Switch
(Bloomberg) -- China long celebrated Tencent Holdings Ltd. as a national champion. Now, the tech giant is getting a taste of what it's like to be on the other side of government patronage.
Tencent tumbled on Thursday after reporting its first profit drop in a decade as Chinese authorities froze approval of digital games the company needs to make money. Once the most valuable company in Asia, Tencent has seen its market cap fall by more than $165 billion since January.
Tencent executives acknowledged a regulatory shakeup is interfering with the introduction of new games, then tried to reassure investors any delays would be temporary. But the lack of direct comment from Beijing left analysts questioning whether the company itself had real clarity. The government may be suffering a mere bureaucratic snafu, but it could also be planning broader restrictions on gaming, long controversial within the Communist Party.
"It's quite a big mess," said Serkan Toto, CEO of Tokyo-based game industry consultancy Kantan Games Inc. "The big message is, if it can happen to Tencent, it can happen to anyone."
Tencent shares rose 3 percent on Friday in Hong Kong.
China has an unusually restrictive approach to games, an extension of the government's tight control over the internet and media. Online, mobile and console games go through a strict, two-step process -- first so they can be offered to customers, then second so companies can profit from the games.
With the government freeze, Tencent has been hampered from making money off two of the most popular games in the world -- Fortnite and PlayerUnknown's Battlegrounds. Tencent has already let millions of customers download the mobile version of PUBG because it had the first approval, but it doesn't yet have the rights to charge money for it.
"From a revenue growth perspective, gaming is a key area of weakness and our biggest game is not monetizable," President Martin Lau said on a conference call with investors Wednesday. "The administration is also aware of the fact that because of the restructuring it's now affecting the industry as a whole."
It's unclear if China will resume game approvals soon or if more stringent rules will appear, but the fallout highlights political pitfalls in the tightly-controlled country. Authorities have been cracking down on all realms of media since a shake-up earlier this year helped President Xi Jinping consolidate power. Authorities have pulled games, websites and video content over concerns of violence, gambling, addiction, and violating core socialist values.
China's gaming policies have global implications for the $137.9 billion market. China surpassed the U.S. to become the world's largest game market in 2016 and many American, Japanese and Korean game publishers rely on Tencent to distribute their games in the country. Major foreign publishers lost more than $7 billion in market value since Bloomberg reported the freeze on Wednesday.
Already, global publishers are sinking resources into cleaning up games for China. It's common practice to create two versions of popular titles, with the mainland China games stripping out or toning down violence, sexualized characters and spiritual or religious imagery like coffins or skeletons.
PUBG, for instance, is a competition where a hundred players fight to the death until one is left standing. For China, Tencent and developer Bluehole substitute slime-green splatterings for oozing red blood so the game appears more like monsters fighting than people killing each other.
"On its face, gaming is entertainment and doesn't seem political," Toto said. "But this shows us that nothing can escape politics in China."
China has a pattern of alternating support and censure. Beijing lets innovation flourish, but when things go too far a crackdown ensues. Conglomerates like HNA Group Co., Fosun International Ltd., Anbang Insurance Group Co. were encouraged for years to buy property and other overseas assets. When their takeover sprees got out of control, regulators stepped up scrutiny. The country's cryptocurrency and peer-to-peer lending industries also soared to become the biggest in the world -- only to be squashed by government intervention.
"It's a reminder to these companies that if the government wants to, they can hurt them," said Steven Weber, a professor at University of California Berkeley School of Information. "These companies have to be operating in the long-term interests of the Chinese state."
Tech darlings aren't immune. Alibaba Group Holding affiliate Ant Financial was initially cheered for providing everyday people and small businesses with easier access to loans and other financial products. Then its money-market fund became the world's largest and its products started to draw money from big banks. Ant suddenly had to comply with new limits set by authorities.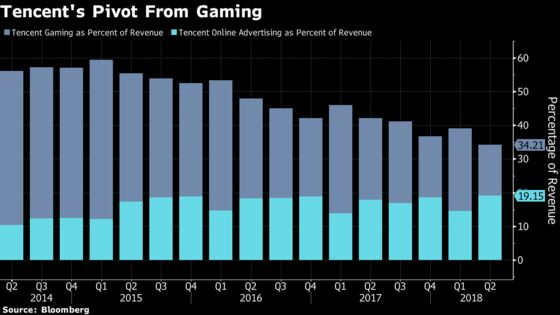 Tencent has been shifting its business away from the gaming industry. The company derived a third of its revenue from games in the last quarter, down from 56 percent in the second quarter of 2014. Rising in importance are payments and advertising, generated through ads in WeChat moments, its newsfeed, and other platforms. Tencent has also invested in hundreds of tech startups from food delivery to bike sharing in hopes of showing ads to and cashing in on the billion people that use its services every day.
For more on China's app economy, check out the Decrypted podcast:
Still, it's rare for company officials to publicly suggest Beijing is to blame for anything, which is why it stood out that Tencent called out government actions for its profit weakness, said Asia Society senior fellow Isaac Stone Fish.
"This is such a shocking stumble Martin Lau probably felt he had to offer some explanation," Stone Fish said, referring to Tencent's president. "It's a great example of the huge importance of Beijing and the Communist Party in any business story in China."
--With assistance from Yuji Nakamura, Lulu Yilun Chen, Sofia Horta e Costa and Keith Gerstein.
To contact the reporters on this story: Shelly Banjo in Hong Kong at sbanjo@bloomberg.net;Selina Wang in San Francisco at swang533@bloomberg.net
To contact the editors responsible for this story: Peter Elstrom at pelstrom@bloomberg.net, Edwin Chan