Commodities Take Global Hit as Turkey, China Form Toxic Combo
Copper sank below $6,000, while the cclimbed and stocks fell.
(Bloomberg) -- Name the commodity, and you can pretty much bet they're having a bad day, thanks to growing fears that global economic growth will be undercut by Turkey's financial crisis and China's trade war.
Copper fell into a bear market amid concern Turkey's troubles could spill over to other emerging markets. Oil in New York fell to its lowest level in almost eight weeks. And even gold, typically a haven, wasn't spared. The Bloomberg Commodity Index covering everything from oil to metals and live cattle plunged to a one-year low.
The sell-off comes amid signs that the economic woes of Turkey and China may be contagious. Indonesia's central bank, for instance, hiked interest rates Wednesday to contain volatility and curb a slide in its currency. Meanwhile, the yuan weakened in China as recent data showed the economy in a rough patch.
"It's going to be difficult to shake this bearish sentiment," Nicholas Snowdon, a metals analyst at Deutsche Bank AG, said by phone from London. "When you look at the broad sell-off across metals, the key drivers are clearly macro factors."
Most contracts in base metal markets fell more than 2 percent in London, with copper sinking below $6,000 as supply concerns eased. Meanwhile, bearish bets outnumbered bullish wagers on 10 of the 18 raw materials tracked by the the U.S. Commodity Futures Trading Commission. Among the losers in mining and metals equities: Freeport-McMoRan Inc. and Hudbay Minerals Inc. both were down more than 8 percent as of 1 p.m., and Century Aluminum Co. fell 10 percent.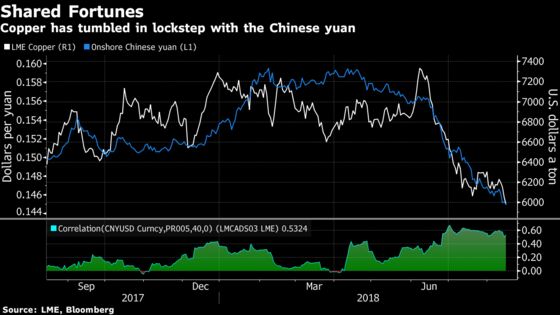 In the precious metals market, gold tumbled to the lowest since January 2017, as the stronger dollar and prospects for rising borrowing costs in the U.S. curbed the appeal of the non-interest-bearing asset. Silver headed to its longest streak of weekly losses since at least 1950, while platinum and palladium were in a free-fall.
In the U.S., crude inventories unexpectedly climbed, adding to the bearish outlook. West Texas Intermediate crude for September delivery fell $2.47 to $64.57 a barrel on the New York Mercantile Exchange.
"We're seeing a bit of ratcheting up of worries about demand growth and that is underpinned by the tariff issues with China and whether we might be seeing signs of demand growth in Asia starting to come off a little," said Gene McGillian, market research manager for Tradition Energy. Meanwhile, uneasy investors are wondering whether the crisis in Turkey could be a contagion issue, he said.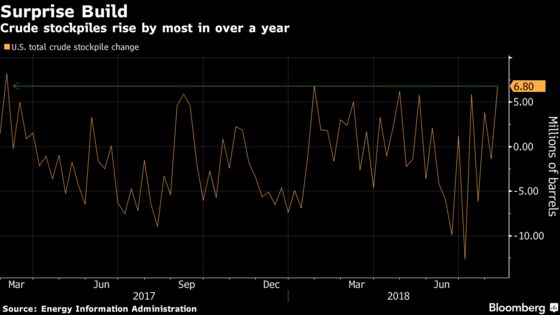 For more on commodities: 
Threat of Contagion in Emerging Markets Deepens Commodity Risk
Gold Runs Risk of Mean Reversion After Such Heavy Losses: Chart

Bleak EU Mining Stocks May Get Even Bleaker Amid Copper Rout
Even clean energy companies have taken a beating.
JinkoSolar Holdings Co., the world's biggest panel-maker touched a five-year low on Wednesday in New York. Fuel-cell maker Bloom Energy Corp. sank as much as 9 percent, and SunPower Corp., a U.S. solar developer and manufacturer also sank. The Wilderhill Clean Energy index had the biggest intraday loss in four months.
While agricultural commodities have been relatively insulated from the Turkish crisis in recent days, crop prices fell on Wednesday. Cocoa erased earlier gains in New York trading while cotton extended losses amid speculation that the collapse in the Turkish lira will hurt the country's imports of the fiber from the U.S. The Bloomberg Agriculture Subindex fell as much as 1.4 percent.
"I think we have not seen the worst of it yet," Peter Tchir, head of macro strategy at Academy Securities, said on Bloomberg Television. "You've only started to see a knock-on effect. I think this is truly the eye of the storm and we are going to get another round of emerging-market weakness."
--With assistance from Winnie Zhu, Laura Millan Lombrana, Joe Ryan and Simon Casey.
To contact the reporters on this story: Luzi Ann Javier in New York at ljavier@bloomberg.net;Mark Burton in London at mburton51@bloomberg.net;Erin Douglas in New York at edouglas16@bloomberg.net
To contact the editors responsible for this story: Lynn Thomasson at lthomasson@bloomberg.net, ;James Attwood at jattwood3@bloomberg.net, Reg Gale, Joe Richter