India's Biggest Trade Deficit in Five Years Adds to Rupee's Woes
India's $18 billion trade deficit in July widened to the most in more than five years was fanned by a higher oil import bill.
(Bloomberg) -- India's trade deficit in July widened to the most in more than five years, worsening the outlook for the rupee that hit a record low on Tuesday.
The gap between exports and imports reached $18 billion in July, fanned by a higher oil import bill, according to data released by India's commerce ministry on Tuesday. That compared with the $15.7 billion median estimate in a Bloomberg survey of 24 economists and $16.6 billion in June.
The trade shortfall puts pressure on the current-account deficit, a key vulnerability for the economy and one of the reasons why the rupee has been among the worst-hit in Asia amid an emerging-market rout this year. The rupee dropped to as low as 70.08 per dollar on Tuesday as a collapse in Turkey's lira hit investor sentiment, taking the slump in India's currency down to 8.6 percent this year.
While a weaker rupee is positive for exports, it poses an inflation risk for a nation that imports more than 80 percent of its crude-oil needs. Every rupee change in the exchange rate against the U.S. dollar impacts India's crude-oil import bill by 108.8 billion rupees ($1.58 billion), according to the oil ministry.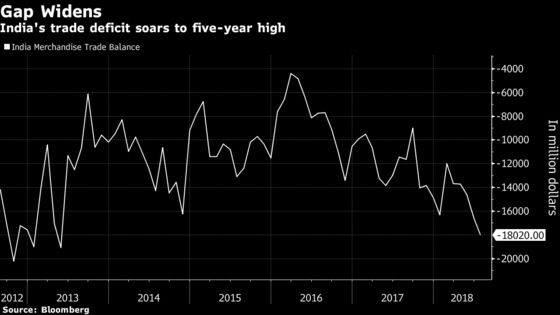 Inbound shipments of oil in July were at $12.4 billion, up 57.4 percent from a year ago, while gold imports surged 41 percent to $2.96 billion and electronics goods by 26 percent to $5.12 billion. Overall imports rose 29 percent to $43.8 billion, while exports grew at 14 percent to $25.8 billion.
The last time the trade deficit was wider was in May 2013 at $19.1 billion, according to data compiled by Bloomberg.
"Broader emerging-market currency movement, dollar strength, and the trend in crude-oil prices will drive the outlook for the rupee in the immediate term, which will have an impact on the landed cost of imports," said Aditi Nayar, principal economist at ICRA Ltd. in Gurugram, near New Delhi. That will also have a bearing on various commodity prices and transmit into wholesale price inflation, she said.
The wider trade gap comes at a time when inflation is easing, complicating the central bank's policy outlook. Wholesale price inflation eased for the first time in five months, while consumer-price growth moderated to 4.17 percent in July.
The monetary policy committee led by Governor Urjit Patel has increased interest rates twice since June to curb price pressures, while the central bank used foreign reserves to check currency volatility. The rupee reversed losses to close 0.1 percent higher at 69.8963 on Tuesday in Mumbai, with traders saying state-run banks sold dollars, probably on behalf of the RBI.
The current level of reserves at about $402 billion will provide import cover of less than a year. The current-account gap is set to widen to 2.4 percent of gross domestic product in the financial year to March 2019, from 1.9 percent in the October-December period.
--With assistance from Manish Modi.
To contact the reporter on this story: Vrishti Beniwal in New Delhi at vbeniwal1@bloomberg.net
To contact the editors responsible for this story: Nasreen Seria at nseria@bloomberg.net, Karthikeyan Sundaram