Battered Tencent Looks for Bottom After $150 Billion Wipeout
Battered Tencent Looks for a Bottom After $150 Billion Wipeout
(Bloomberg) -- Investors in Tencent Holdings Ltd., once the hottest stock in Asia, are trying to figure out where the bottom is.
The Chinese internet giant, best known for its popular games and ubiquitous messaging services, has shed more than $150 billion in market value since a January peak, the biggest wipeout of shareholder wealth worldwide. Some $15 billion evaporated on Tuesday after regulators told the Shenzhen-based company to remove Monster Hunter: World from its PC downloads service just days after the action title's debut.
The hit comes as game revenue growth slows and trade tensions between the U.S. and China punish wide swaths of the market. But what has investors most concerned is the regulatory setbacks in a country where the government can make -- or break -- fortunes. Besides Monster Hunter, the company hasn't won approvals to make money from the marquee mobile game PlayerUnknown's Battlegrounds and to introduce the desktop version in China. Investors will be looking for answers when the company reports earnings Wednesday.
"There's a lot of negativity priced in already," Mark Po, a Hong Kong-based analyst at China Galaxy International Financial Holdings said. "The only key thing that investors will be looking at is the growth of online games."
Shares slid another 2.3 percent Wednesday. Goldman Sachs reduced its earnings forecast and cut its price target for Tencent by 7 percent Wednesday, citing slowing gaming growth among other factors.
At least 11 analysts have shaved their targets on the social media giant since June. Revenue is projected to climb 37 percent while operating profit rises 18 percent, according to estimates compiled by Bloomberg.
Alibaba Group Holding Ltd., the Chinese e-commerce giant that reports earnings next week, has held up somewhat better amid the market tumult. Its margins are sliding as it shells out billions to buy and build a nationwide retail and delivery network, but that's expected to drive revenue growth to its fastest in more than four years. Both internet giants remain vulnerable to trade tensions between the world's two biggest economies.
"The trade war between China and the U.S. also affects the market sentiment and weighs on investors' position in China internet," said Gregory Zhao, an analyst for Barclays, in a research report he co-wrote. "We still see some effects from macro concerns and government regulation."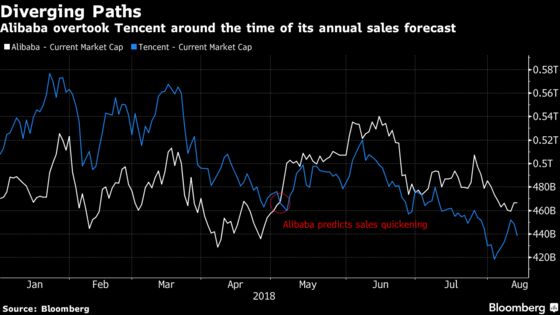 Tencent's projected 37 percent growth in revenue would be its slowest since 2015. Chief among analysts' concerns is the hold-up in launching PUBG on desktops and still-absent approval to start earning off Chinese players of the mobile version -- the country's second most popular game in June by time spent. The litany of headaches coincides with Beijing's harshest internet content crackdown in history.
All that's hobbling its chief source of income. Deutsche Bank analysts led by Han Joon Kim now forecast a 6 percent drop in mobile gaming revenue in the second quarter from the first, rather than a rise of the same magnitude.
"Tencent's share price may continue to decline without new drivers as the growth of the mobile gaming industry is expected to slow down," said Rick Su, a Taipei-based fund manager at Capital Investment Trust Corp. He trimmed his holding to 2.7 percent of his portfolio from 5.2 percent in February, according to Bloomberg data. "If that's the case, it can't sustain the high valuations of a growth stock."
Still, the gaming giant could emerge from the doldrums in the third quarter if it finally gets the green light to unveil PC versions of PUBG and Fortnite, the Battle Royale-meets-Minecraft game that's taken the world by storm. "We expect online games sales growth to pick up in the second half," CCB International analyst Ronnie Ho wrote.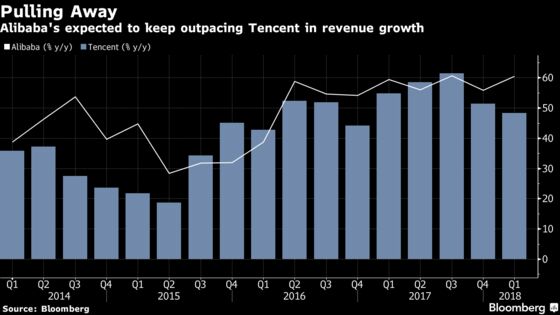 Alibaba, in contrast, is expected to post its fastest growth in revenue since December 2013, a 61 percent jump. Heavy investments into traditional retail, video content and new services such as food delivery helped bolster growth. Advertising and commission revenue at the e-commerce giant might have grown 31 percent, according to Barclays' Zhao.
Those expenditures are eating into margins. In the span of two years, Alibaba has acquired control of its logistics network, video streaming business Youku and now food delivery services Ele.me. It's pouring money into an array of groceries and department stores such as Hema. Margins on earnings before interest, tax, depreciation and amortization for Alibaba's core e-commerce business could've dived 17 percentage points from last year to 46 percent, according to Shi Jialong, an analyst with Nomura.
That spending however may be vital for the longer term. "Investment is essential for Alibaba to tap into a much bigger addressable market beyond its current 13 percent China retail market share," Karen Chan, an analyst with Jefferies Hong Kong Ltd., said in a report.
As for Tencent, investors are looking for any signs of a turnaround. Asked for a prediction on how shares would react after earnings, China Galaxy's Po struck a pessimistic note.
"It depends on how bad the news is," he said.
--With assistance from Cindy Wang.
To contact the reporter on this story: Lulu Yilun Chen in Hong Kong at ychen447@bloomberg.net
To contact the editors responsible for this story: Robert Fenner at rfenner@bloomberg.net, Edwin Chan, Peter Elstrom