U.S. Stocks Fall, Dollar Gains Amid Turkey Fears: Markets Wrap
Yen Climbs; Asia Stocks Set for Losses on Turkey: Markets Wrap
(Bloomberg) -- U.S. stocks were lower Monday but the contagion from the economic crisis in Turkey remained largely confined to emerging-market assets. The dollar surged to its highest in 14 months, punishing commodities from crude to metals.
The S&P 500 Index declined for a fourth straight day, its longest losing streak in five months, due to weakness in energy, materials and financial firms. Turkey's lira sank for a fourth day, hitting a new low. Emerging-market equities tumbled more than 2 percent and currencies dropped 1 percent, with South Africa's rand falling to the lowest since June 2016. European banks dragged down stocks in the region, though equity measures closed well above the day's lows.
The economic troubles in Turkey gripped global financial markets, with investors scrambling to determine whether and how far pain there would spread. Early signs that markets would buckle faded during the American trading day as stocks swung between gains and losses, though declines in developed-nation assets remained deep.
"The fact that the early day rally faded has spooked investors that Turkey risk is still increasing toward a bigger event," said Jim Paulsen, chief investment strategist at Leuthold Weeden Capital Management. "Contagion risk is the primary driver today."
Investors started the week after Turkey's President Recep Tayyip Erdogan maintained his defiance toward both the U.S. and financial-market orthodoxy in speeches on Sunday, heightening concern that the financial woes there would spread to other markets. Central bank moves to boost liquidity provided little relief.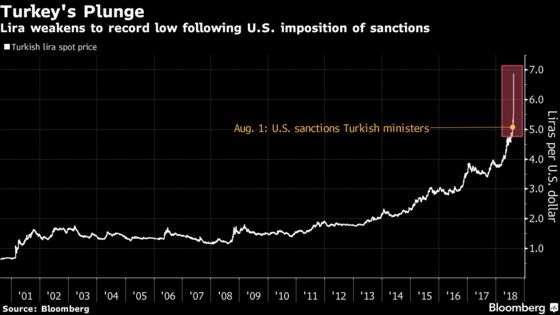 "The efforts of regulators on the European continent and in the U.K. over the last eight-plus years to fortify their respective banks (via improved regulation and government administered 'stress tests') will likely mitigate damage -- should it occur -- and prevent development of systemic risk or contagion from spreading," Oppenheimer & Co. strategists led by John Stoltzfus wrote in a note to clients Monday.
Separately, Argentina's central bank unexpectedly hiked its key interest rate and unveiled a plan to gradually eliminate the stock of its short-term notes as the peso slumped to a record low.
Terminal users can read more in our Bloomberg Markets Live blog here.
Here are some key events coming up this week:
China releases industrial production, fixed-asset investment and retail sales data Tuesday.
Germany releases gross domestic product data for the second quarter and the U.K. publishes unemployment figures Tuesday.
Earnings are due this week from companies including Tata Steel, Maersk, Home Depot, China Unicom, Tencent, Cisco, Walmart, and Carlsberg.
Brexit talks between the EU and the U.K. resume in Brussels Thursday.
Retail sales data in the U.S. is on Wednesday, followed by housing data on Thursday.
These are the main moves in markets:
The S&P 500 Index fell 0.4 percent to 2,821.93.
The Stoxx Europe 600 Index declined 0.3 percent.
The MSCI All-Country World Index dropped 0.8 percent to the lowest in a month.
The MSCI Emerging Market Index plunged 2 percent to the lowest since July 2017.
The Bloomberg Dollar Spot Index gained 0.2 percent to the highest since June 2017.
The euro dipped 0.1 percent to 1.1399.
The Japanese yen rose 0.2 percent to 110.61 per dollar.
The Turkish lira declined 7.8 percent to 6.9776 per dollar, the weakest on record.
South Africa's rand sank 3 percent to 14.5132 per dollar, the weakest since September 2016.
The MSCI Emerging Markets Currency Index fell 1 percent to the lowest since July 2017.
The yield on 10-year Treasuries was unchanged at 2.8732 percent.
Germany's 10-year yield fell less than one basis point to 0.311 percent.
Britain's 10-year yield added one basis point to 1.252 percent.
The Bloomberg Commodity Index declined 0.8 percent.
West Texas Intermediate crude slid 0.4 percent to $67.34 a barrel.
Gold decreased 1.4 percent to $1,193.47 an ounce, the weakest since January 2017.
--With assistance from Adam Haigh, Eddie van der Walt and Elena Popina.
To contact the reporter on this story: Olivia Schaber in New York at oschaber1@bloomberg.net
To contact the editors responsible for this story: Jeremy Herron at jherron8@bloomberg.net, Eric J. Weiner
Get Your
Daily Newsletter
Get market moving news, top news & compelling perspectives
---