Iran's Revolutionary Guards Call on Rouhani to Halt Rial's Drop
(Bloomberg) -- Iran's Revolutionary Guards, in unusually pointed language, called on President Hassan Rouhani to do more to prop up the rial after the currency fell to a historic low this week in anticipation of renewed U.S. sanctions.
"The unique and extensive backing you benefited from in past weeks shouldn't preclude you from taking revolutionary actions to control prices and prevent the enormous increase in the price of foreign currency and gold," Guard commander Mohammad Ali Jafari was quoted as saying in an open letter to Rouhani, published by the Tasnim news agency. "Decision-making in today's difficult circumstances necessitates revolutionary determination and decisiveness in dealing with certain managers' weaknesses."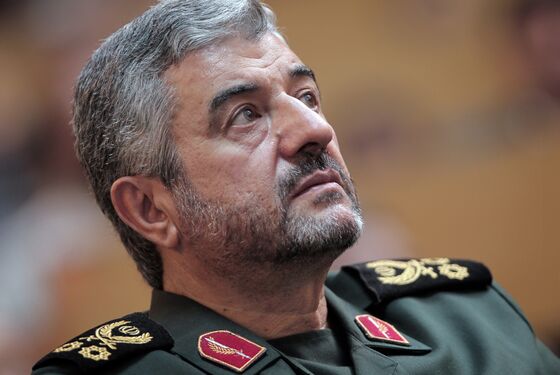 The call to revolutionary action comes from a powerful military organization that controls a range of local companies. It also plumbs ordinary Iranians' growing frustration with the Rouhani government's response to the tumbling of the rial and the poor state of the economy. If senior Iranian officials have in the past expressed support for Rouhani's efforts to shield Iran from the sanctions' fallout, then the Guards' language on Tuesday was harsher, demanding that he immediately take more forceful action to deliver results.
In a separate appeal, some 200 lawmakers sent Rouhani a letter demanding that he shake up his economic team and replace the minister for economic and financial affairs and the minister for industry, trade and mines, the semi-official Iranian Students' News Agency reported, quoting Abolfazl Soroush, a member of parliament for Tehran.
The rial sank to 116,000 to the dollar on the black market on Sunday from about 90,000 last week, far weaker than the official rate of 44,070. Authorities have rounded up more than two dozen merchants who they say exploited government currency measures for personal gain, in an effort to show they're fighting profiteering and trying to cushion the blow of the U.S. economic offensive.
On Monday, President Donald Trump toned down the escalated rhetoric that has characterized exchanges between Tehran and Washington since the U.S. withdrew from an international nuclear pact with Iran in May, saying he'd be willing to meet with Rouhani and other Iranian leaders without preconditions "anytime they want to."
U.S. officials later appeared to walk back those comments, saying Iran must downgrade its military ambitions and involvement in regional affairs for talks to talk place.
An adviser to Rouhani said the U.S. would need to show that it respects Iran and is returning to the nuclear deal that Trump rejected. Such steps "would pave the current bumpy road of talks," Hamid Aboutalebi said in a tweet.
Major policy changes in deference to a U.S. administration that's undermined the nuclear deal and vowed economic war against Tehran are unlikely. At the same time, a year into his second term, Rouhani faces mounting pressure both from the Iranian people and hardline political rivals to deliver on electoral promises, including job creation.
To contact the reporter on this story: Ladane Nasseri in Dubai at lnasseri@bloomberg.net
To contact the editors responsible for this story: Lin Noueihed at lnoueihed@bloomberg.net, Amy Teibel, Mark Williams