What's So Secret About Whole Foods? Under Amazon, a Lot It Seems
For years, hedge funds marked the date of the organic grocer's earnings announcement on their calendars. Its quarterly results provided a rare window into the burgeoning market for organic food and how upscale Americans ate and shopped. And everyone, whether bull or bear, had an opinion.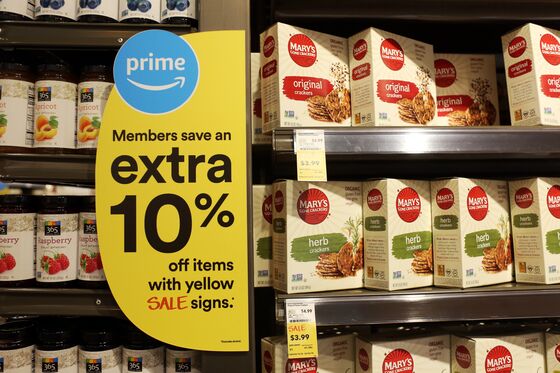 Those days are gone. Since last August, when Whole Foods was swallowed up by Amazon.com, there's been a virtual blackout. The grocery chain is now little more than a footnote in the e-commerce behemoth's earnings statements. Barely a peep comes out of analyst calls.
"It's not the same," said Jennifer Bartashus, a retail-staples analyst at Bloomberg Intelligence. Before, "you could see the whole dynamic playing out. There's no equivalent in the public space right now."
In recent years, organic food has become big business in the U.S., with the likes of Kroger, Trader Joe's and Walmart all crowding into the space. And no single grocer has embodied that upmarket shift into trends such as quinoa, kale and farm-to-table as much as Whole Foods, founded by outspoken vegan John Mackey more than three decades ago.
During Amazon's second-quarter earnings call on Thursday, only one question was asked about Whole Foods. And when Amazon executives do talk about the company's roughly 460 Whole Foods stores, the answers aren't particularly enlightening. They usually amount to some combination of cutting prices, expanding delivery and trying get Prime members to buy more groceries.
Amazon's earnings statements aren't much help either. Revenue from Whole Foods is part of the company's "physical store" line item, which means sales from the chain's wild Alaska sockeye salmon and small-batch olive oil are lumped in with revenue from Amazon's bookstores.
Details on same-store sales? Nope. New store openings? Good luck with that.
There's little doubt that Amazon has shaken up the organic-food industry and worked to shed the grocer's "Whole Paycheck" nickname, which even loyal shoppers derisively use to this day. Yet industry analysts have been left to rely on third-party services to track metrics like price cuts and sales growth.
Christopher Mandeville, whose covers Kroger and other food retailers at Jefferies, still peruses Amazon's earnings transcript to see if Whole Foods is mentioned. He recalls how it was such a lightning rod as a publicly traded company, and at times, misses the heated discussions that investors would have during earnings season.
It was "hotly debated," he said. "It certainly generated a lot of dialogue."
To contact the reporter on this story: Craig Giammona in New York at cgiammona@bloomberg.net
To contact the editors responsible for this story: Anne Riley Moffat at ariley17@bloomberg.net, Michael Tsang, Melinda Grenier