U.S. Stock Gauges Close Lower After Facebook Flop: Markets Wrap
Everything you need to know about what's moving markets today.  
(Bloomberg) -- U.S. equity indexes closed mostly lower Thursday thanks to Facebook Inc.'s historic plunge, as gains in the energy and industrial sectors weren't enough to offset the social network's meltdown.
Facebook tumbled as much as 20 percent, driving the Nasdaq down, after revenue and user growth missed estimates. The S&P 500 Index declined for the first time this week even as broader sectors rallied. After the close, traders will shift attention to Amazon.com, one of a raft of earnings coming out this week. Twitter reports Friday.
"On a day like this, if one of the leaders, especially a FANG stock, gets hit, all tech is going to trade off, so the Nasdaq is going to drop," Mark DeVaul, portfolio manager for the Hennessy Equity and Income Fund, said in an interview at Bloomberg's New York headquarters. "There's a lot of earnings out this week from other companies so if a couple other S&P leaders have decent numbers and they're up, they can offset the impact of Facebook."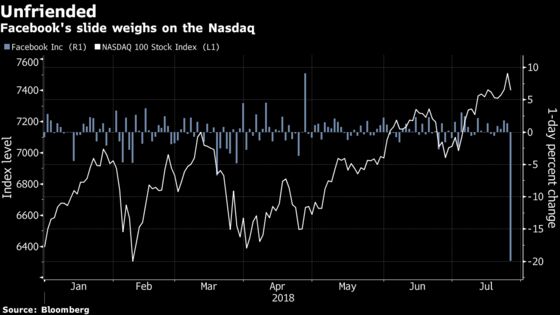 In Europe, the Stoxx 600 Index climbed after President Donald Trump agreed with European Commission chief Jean-Claude Juncker to suspend new tariffs while continuing to negotiate over trade. The euro declined as the European Central Bank held interest rates, while the dollar advanced. The ECB said it will stick to its plan to end bond purchases and pledged to keep interest rates unchanged "at least through the summer of 2019." Treasuries were little changed; European bond benchmarks sank.
Trump's meeting with Juncker came amid a slew of company results, some of which reflected the impact of recent trade threats from the White House. Automakers were especially hard hit. Ford Motor Co. joined General Motors Co. in cutting forecasts. Daimler AG warned lower earnings at its Mercedes-Benz unit will extend into the third quarter because of higher trade barriers.
Elsewhere, West Texas crude ticked higher after an attack on Saudi tankers stoked supply concerns. Emerging-market stocks declined. In Asia, Japan's Topix index and South Korea's Kospi rose, while the Shanghai composite fell. The Turkish lira took another beating after Trump threatened sanctions if the nation doesn't release an American pastor.
Terminal users can follow our Markets Live blog here.
Here are some key events coming up this week:
Earnings season continues with the following tech companies among those reporting: Amazon.com, Twitter, Advanced Micro Devices, Qualcomm and Intel.
U.S. gross domestic product probably increased by about 4.2 percent at an annualized rate in the second quarter, the most since 2014, economists forecast ahead of Friday's data.
Terminal users can follow our Markets Live blog here.
These are the main moves in markets:
The S&P 500 Index fell 0.3 percent as of 4 p.m. New York time.
The Stoxx Europe 600 Index rose 0.9 percent to its highest in almost six weeks.
The U.K.'s FTSE 100 Index gained 0.1 percent
The MSCI Emerging Market Index declined 0.1 percent.
The Bloomberg Dollar Spot Index rose 0.5 percent, the largest advance in two weeks.
The euro declined 0.7 percent to $1.1643, the biggest drop in four weeks.
The British pound decreased 0.6 percent to $1.3108.
The Japanese yen fell 0.2 percent to 111.25 per dollar.
The yield on 10-year Treasuries advanced less than one basis point to 2.98 percent.
Germany's 10-year yield gained one basis point to 0.40 percent.
Britain's 10-year yield advanced less than one basis point to 1.278 percent.
West Texas Intermediate crude advanced 0.4 percent to $69.60 a barrel.
LME copper gained less than 0.05 percent to $6,291.00 a metric ton.
Gold dipped 0.7 percent to $1,223.06 an ounce.
--With assistance from Adam Haigh and Yakob Peterseil.
To contact the reporter on this story: Sarah Ponczek in New York at sponczek2@bloomberg.net
To contact the editors responsible for this story: Jeremy Herron at jherron8@bloomberg.net, Andrew Dunn, Samuel Potter