Sanctions Push North Korea's Economy Into Reverse
Struggling North Korea's economy should give Trump greater leverage to urge Kim Jong Un to abandon nuclear programs.
(Bloomberg) -- North Korea's economic trajectory has u-turned from surprisingly strong growth in 2016 to a sharp contraction last year -- and worse is yet to come.
Estimates from South Korea's central bank show gross domestic product in the North contracted 3.5 percent in the 12 months through December, the biggest drop in two decades. The Seoul-based Bank of Korea, which is considered the most authoritative source for economic data on its neighbor, said tighter sanctions imposed in 2017 will only show their full impact this year.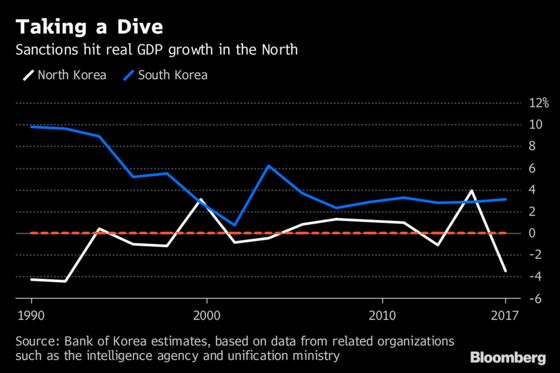 The poor state of the economy should give U.S. President Donald Trump greater leverage in his efforts to persuade North Korean leader Kim Jong Un to abandon his nuclear weapons program, though the regime in Pyongyang has shown its willingness to put itself above the well-being of its people.
Per capita income in the North was estimated at 1.46 million won ($1,285) in 2017, or about 4.4 percent that of South, the BOK said on Friday. The central bank uses a wide variety of information to compile its figures and draws on multiple government departments and agencies in the South, as well as the nation's intelligence services.
"The intensity of the sanctions was relatively weak in 2016 but things got very tough in 2017, when the ban on exports also included North Korea's key products such as coal, iron ore, seafood and textiles, which resulted in a sharp drop in trade volumes," Shin Seung-cheol, head of the BOK's national accounts coordination team, said at a briefing in Seoul.
North Korea's exports fell about 37 percent in 2017 to $1.77 billion, the BOK said. Trade volume with China, which accounted for more than 94 percent of the total last year, fell 13 percent to $5.26 billion, according to a separate statement by the Korea Trade-Investment Promotion released on July 10.
The agency attributed the overall trade volume decrease to the sanctions imposed by the United Nations Security Council in August last year.
The UN also has asset freezes and travel bans on designated individuals and entities and mandated that all North Koreans working abroad must return home by late 2019. The U.S. imposed sanctions of its own, in 2017 imposing a full trade and financial embargo that includes penalties for non-U.S. banks, companies and people that do business with North Korea.
Early readings for this year give a hint at the pain to come. China's imports from the North Korea from January to May this year have decreased 87 percent from the same period in 2017, the BOK said, citing data released by the Korea International Trade Association.
Separately, the North's trade volume with the South declined to $900,000 last year from $333 million registered in 2016, the BOK said. The trade volume between the two Koreas has sharply decreased following the closure of the Gaeseong industrial park in 2016, it said.
"If the sanctions remain intact, it will definitely hurt its economy for sure in the longer run," said Kim Young-hui, a senior research fellow at the Korea Development Bank in Seoul. "North Korea could maintain the current path for at least one or two years at best by stimulating domestic consumption. But if the sanctions remain prolonged and oil imports continue to decrease, that will ultimately hurt it badly."
The BOK's calculations have limits, and it uses South Korean data such as prices to substitute for unknown information.
Mining decreased 11 percent on sharply lower coal production.
Manufacturing fell 6.9 percent.
Utilities production declined 2.9 percent.
Agriculture, forestry and fishery also fell 1.3 percent on a severe drought
To contact the reporter on this story: Jungah Lee in Seoul at jlee1361@bloomberg.net
To contact the editors responsible for this story: Brett Miller at bmiller30@bloomberg.net, Henry Hoenig