BlackRock CEO Says Tariff War Could Spur Broad Market Rout
(Bloomberg) -- BlackRock Inc. Chief Executive Officer Larry Fink said that intensifying global trade tensions may spur a broad market downturn and a slowdown in the U.S. economy.
Stocks could drop 10 percent to 15 percent and U.S. gross domestic product would start slowing in 2019 if the Trump administration sees through its threat to levy tariffs on an additional $200 billion of Chinese imports, Fink said, adding that would elevate the current tensions to a full-blown trade war.
"The market's having a hard time digesting the whole change in globalization and trade," Fink said in an interview Monday with Erik Schatzker on Bloomberg Television. "The foundations of international trade are being raised and being questioned."
Trade worries are already causing investors to "pause," he added, despite record deal-making and stock repurchases. That effect has been compounded by the fact that for the first time in a decade investors can earn a return by keeping money in cash.
In the BTV interview, Fink also said he expects the yield curve to invert this year, yet he doesn't think it signals an imminent recession.
Read more: Fink Sees 2018 Curve Inversion
The world's largest asset manager is already seeing signs of investor skittishness. Earlier Monday, BlackRock reported that investors pulled $22.4 billion from its equity products in the second quarter. Inflows into its iShares products totaled $17.8 billion, the lowest since the second quarter of 2016. That was against a backdrop of muted investor flows in ETFs for the industry in general.
Shares of BlackRock closed down 0.6 percent to $503.96 in New York. The stock is down 1.9 percent this year.
Some institutions also yanked money from equity markets to serve deal-making and share buybacks, Fink added in a separate interview Monday. No matter, BlackRock is built to withstand short-term market tremors because of its size and diverse product offerings, he said.
"Let's be clear: over the years, BlackRock has modeled its business to have strong results in rising markets and declining markets," he said. "No firm has our composition," he said, touting the company's expansion in technology, cash management and alternative investments such as infrastructure. Spikes in volatility drive greater demand for its risk-monitoring technology Aladdin, according to Fink.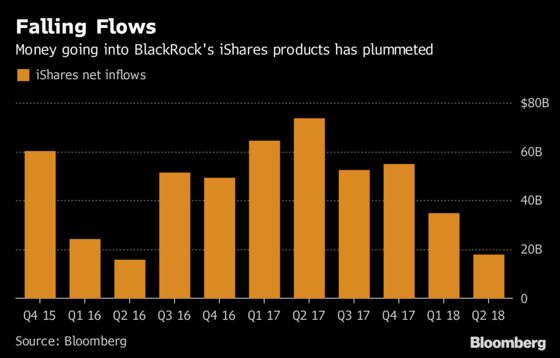 BlackRock's total assets under management were about flat at $6.3 trillion as of June 30. The New York-based firm also reported total net inflows of $20 billion in the period. Overall, the company had a solid quarter with adjusted second-quarter earnings of $6.66 per share, topping analyst estimates of $6.55 per share. Revenue gained 11 percent year-over-year.
"Investors have become accustomed to iShares consistently delivering outsized growth relative to peers," Edward Jones analyst Kyle Sanders wrote in a note Monday. "However, today's results are a reminder that even BlackRock is not immune to jittery markets."
--With assistance from Brandon Kochkodin and Rachel Evans.
To contact the reporters on this story: Annie Massa in New York at amassa12@bloomberg.net;Erik Schatzker in New York at eschatzker@bloomberg.net
To contact the editors responsible for this story: Margaret Collins at mcollins45@bloomberg.net, Alan Mirabella