WeWork Rival Convene Raises $152 Million to Fuel Its Expansion
(Bloomberg) -- Convene, a New York-based real estate startup that specializes in flexible meeting and working space, has raised $152 million from investors including Revolution Growth, Brookfield Property Partners LP and the Durst Organization, its co-founders said.
The Series D round values the company at more than $500 million, according to a person with knowledge of the matter who asked not to be named. Revolution, RXR Realty, David Rubenstein's Declaration Capital and QuadReal Property Group are among the company's new investors, while existing investor ArrowMark Partners led the round and was joined by other earlier Convene investors including Brookfield, Durst, Conversion Venture Capital LLC and Elysium Management. BlackRock Inc. is another returning investor, according to people with knowledge of the matter. Edward Sweeney, a BlackRock spokesman, declined to comment.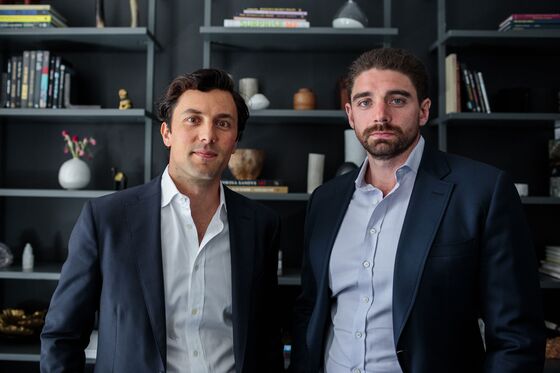 Convene, founded in 2009, rents meeting and event space out by the hour or for as long as multiple days, and co-working space for a minimum of 12 months, with an average commitment of two years. The company intends to use its latest cash infusion to expand the business both in the U.S. and globally, ultimately establishing a presence in every major metropolitan area, said co-founder and Chief Executive Officer Ryan Simonetti. It's currently eyeing London as its first overseas outpost and sixth city, after New York, Boston, Philadelphia, Los Angeles and Washington, D.C.
The company's goal is to increase its footprint from 582,000 square feet (54,000 square meters) under management today to 700,000 square feet by the end of the year, and 1.7 million square feet in 10 cities by the end of next year. London is the only non-U.S. city in the company's sights within the next 18 months, Simonetti said. He declined to comment on the valuation figure.
"Convene is bigger than co-working -- we think about the workplace as an ecosystem and we're trying to transform and humanize the whole experience," he said in an interview. Amenities, beyond core hospitality and catering, include screenings of sporting events such as the World Cup, yoga and shadowboxing sessions, and wine and Scotch tastings. Another recent offering, for tenants at Manhattan's One World Trade Center, was "an afternoon of tea and English charm," with a Harney & Sons representative teaching attendees how to brew the perfect cup of tea.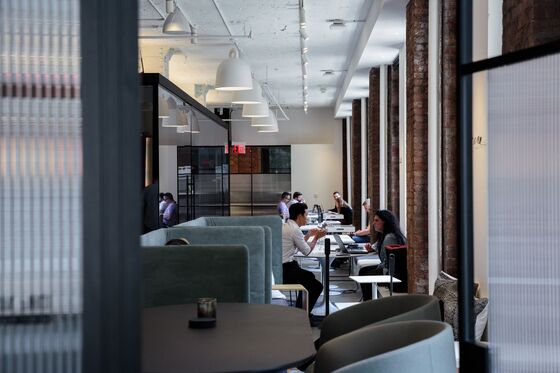 Convene sees itself as a partner to landlords, many of whom are among its investors. Ben Brown, a Brookfield executive vice president, said Convene improves the values of its office towers, in part because its services and amenities can be used by other tenants.
"For landlords, it's a perfect marriage because it solves an issue that arises as our end customers seek more flexibility in the size and scale of their footprints," he said in a phone interview. Brown adds that there's enough space for Convene and its larger, better-known rivals, such as WeWork Cos., to thrive, especially because their business models are different.
Different from WeWork, more than half of Convene's revenue comes from mature, established companies with $1 billion-plus in revenue or more than 1,000 employees -- including Barclays Plc, Comcast Corp. and Ernst & Young Global Ltd., Simonetti said. Convene offers its hospitality capabilities as a standalone service and can earn fees directly from landlords without having to sign a lease. It's also planning on "activating" vast empty spaces such as lobbies, through the addition of its coffee service, known as For Five.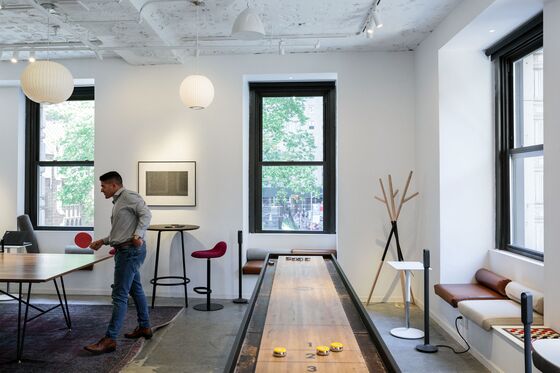 RXR CEO Scott Rechler, who was compelled to launch a property technology-focused fund partly because of Convene, said he believes the company will help his firm transform buildings to meet the needs of 21st century tenants. He's especially excited about Convene's technology platform, known as Elevate, which will give landlords data on tenants' use of space, among other things.
Simonetti says the company aims to introduce a single app that allows tenants to book a meeting room, order food, add guests to building security and use other services. Chris Kelly, Convene's president and co-founder, said he expects the technology to accelerate the company's growth.
"If co-working is an element of the shared economy, everything that has happened to date has been in analog," he said. "We really want to build the connective tissue in a building that connects people, places, services, systems and things."
Steven Murray, a managing partner at Revolution Growth, said his firm invested in Convene in part because of its similarity to its bets on fast-casual restaurant concepts such as Sweetgreen and Cava. "It has a traditional real estate component but, in this case, it's disrupting the way people interface with their work space," he said.
Convene isn't the only co-working company attracting investment. WeWork recently held talks to raise funds at a valuation of $35 billion. Knotel, which has a presence in New York, San Francisco and London, closed a $70 million Series B round in April that valued it at $500 million. And Industrious, in February, raised $80 million in a Series C round at an undisclosed valuation.
Simonetti said Convene may one day join its landlord partners and WeWork -- which has been buying office space, including the Lord & Taylor building in Manhattan -- in making purchases.
"At some point in the future, it may make sense for us to launch a property fund," he said. "But that isn't in our strategic plan for the next six to 12 months."
--With assistance from Ellen Huet.
To contact the reporter on this story: Gillian Tan in New York at gtan129@bloomberg.net
To contact the editors responsible for this story: Daniel Taub at dtaub@bloomberg.net, Dan Reichl