U.S. Is Set to Become World's Top Oil Producer, Government Says
The U.S. sees oil output rising next year amid transportation logjams in the country's most prolific shale play.
(Bloomberg) -- The U.S. government sees oil production further climbing next year even amid transportation logjams in the country's most prolific shale play.
The Energy Information Administration sees U.S. crude output averaging 11.8 million barrels a day in 2019, up from its 11.76 million barrel a day estimate in the June outlook.
"In 2019, EIA forecasts that the United States will average nearly 12 million barrels of crude oil production per day," said Linda Capuano, Administrator of the EIA. "If the forecast holds, that would make the U.S. the world's leading producer of crude."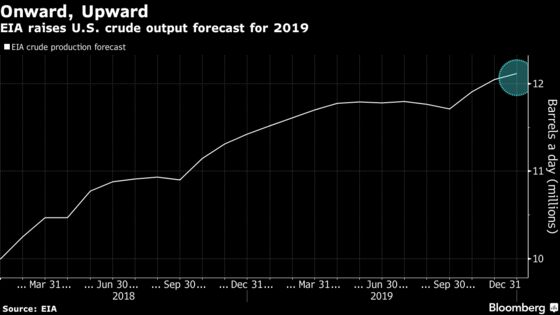 U.S. crude output has remained above the 10-million-barrel a day mark since February. That's while Saudi Arabia told OPEC it pumped about 10.5 million barrels of crude a day last month as the kingdom sought to cap rallying prices by ramping up output, according to people familiar with the matter.
Concerns linger over the worsening bottleneck in the biggest U.S. shale region, the Permian Basin, and how that might affect domestic output in the second half of the year. Due to limited pipeline transportation in the region, production may start to slow in the area, according to Scott Sheffield, the chairman of Pioneer Natural Resources Co. "We will reach capacity in the next 3 to 4 months," he said in June.
The EIA left its average domestic output forecast for this year unchanged at 10.79 million barrels a day, above the 1970 record of 9.6 million a day, according to the agency's Short-Term Energy Outlook released on Tuesday. Its global crude production forecast for next year was raised to 102.54 million barrels a day from a previous forecast of 102.21 million a day. The agency's world demand growth estimate for 2019 was lowered.
To contact the reporter on this story: Jessica Summers in New York at jsummers24@bloomberg.net
To contact the editors responsible for this story: David Marino at dmarino4@bloomberg.net, Mike Jeffers, Carlos Caminada