In Erdogan Heartland, Lira Crisis Is Taking Toll on Businesses
'Anatolian Tigers' are roaring less these days
(Bloomberg) -- Even in Recep Tayyip Erdogan's electoral stronghold, businessmen like Halit Ozkaya can't help but complain about the currency crisis the president instigated just weeks before elections.
The chairman of steel and copper cable maker Has Celik was forced to halt metal imports in May when Erdogan sent the lira into freefall by vowing to interfere in monetary policy if he wins on June 24. Now Ozkaya is worried Turkey is on the cusp of a debt crisis.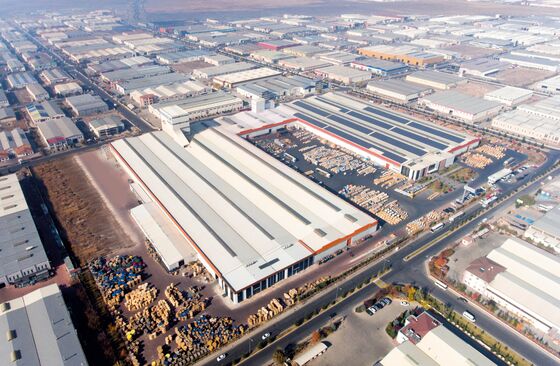 "The magnitude of the lira's swings is putting us in trouble by killing predictability and creating uncertainty on debts repayment," Ozkaya said from his office overlooking Kayseri, an industrial city where almost seven out of 10 voters backed Erdogan in 2015 elections.
Like most of the dozen businessmen Bloomberg interviewed across the Anatolian peninsula in June, Ozkaya declined to say whether Turkey's economic troubles would influence his vote. Yet with polls suggesting Erdogan is in a tight race, losing any support in his heartland—home to a majority of Turkey's population—would be detrimental.
In a country where political opponents are thrown in jail or threatened with business seizures, the reticence to discuss politics isn't surprising. Many industrialists in conservative Anatolian cities like Kayseri, Konya and Gaziantep have used government incentives over the years to expand production.
Aside from the coastal strip where Turks are more secular, the region has been a bastion of loyalty throughout Erdogan's 16-year rise to power, lauding his push to put Islam back in the center of national life. He's credited with driving growth in the first part of the century, giving rise to so-called Anatolian tigers, entrepreneurs who thrived under the political stability Erdogan brought. They used access to cheap international funding to catapult their textiles, food, machinery and furniture businesses.
But their fortunes have turned more recently, particularly as the economy faltered in the wake of the coup attempt on Erdogan two years ago. Now Turkish private companies are saddled with a near-record $337 billion of foreign-currency debt that will be a lot harder to finance with the lira 37 percent weaker against the dollar than it was at this time in 2016.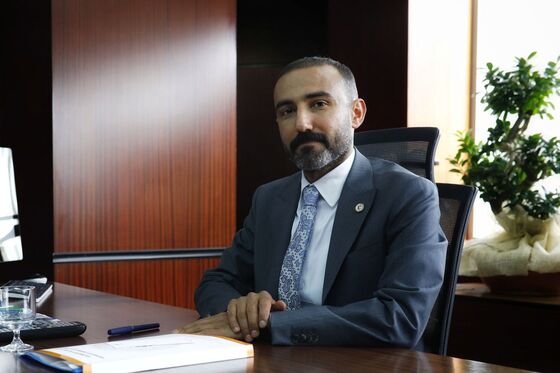 "It's a fact that recent currency volatility upset people who produce," said Mehmet Tuncay Yildirim, chairman of the chamber of commerce in the southeastern border city of Gaziantep. "Investors, industrialists fear uncertainty. If the exchange rate will stabilize, they can take positions accordingly."

Most Anatolian businessmen said exchange-rate risks have outstripped rising borrowing costs as their top concern—and that's unlikely to change. While it's calmed since last month, the lira's implied volatility for the next month is almost 30 percent, the highest in emerging markets. The currency fell 15 percent this quarter, even after central bankers raised interest rates by 500 basis points in less than two months.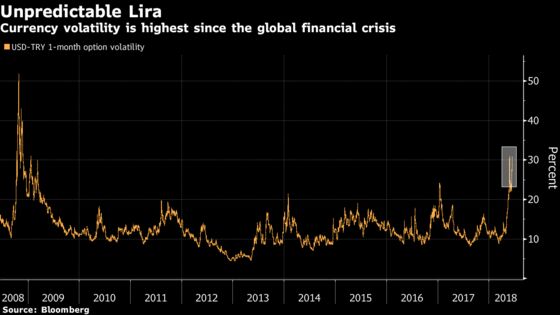 "You can't calculate your costs because of the volatility. Our costs are changing hourly, not just daily," said Bora Tezel, chairman of the Gaziantep Young Businessmen Association and deputy chairman of Milimetrik Prefabrik, which produces concrete blocks for factories. "Even if interest rates are high, at least it's fixed and you know your costs."
To offset his soaring import bill, Taner Ozdurak, CEO of Ozdurak Tekstil Sanayi ve Ticaret, in Gaziantep, wants sales of yarn to Poland and Spain to account for 20 percent of total turnover by 2020, from almost nothing now. "This will be a natural hedge mechanism to protect us against volatility at home," he said.
Erdogan has fanned a lot of that unpredictability. For years, he's tried to coax the central bank to lower rates so businesses can take out cheaper loans, even when inflation is soaring. But time and again, the meddling backfired because foreign investors, demanding central bank neutrality, dumped Turkish assets.
That's compelled policy makers to hike borrowing costs even more to stop a run on the currency, as happened last month when the lira tumbled as much as 18 percent to a record 4.9253 a dollar. Benchmark interest rates are now 17.75 percent, the highest since 2008.
You'll struggle to find anyone in Anatolia blaming Erdogan for the market turmoil, though. Instead, they echo their leader in directing their disappointment at the central bank, foreign interference and global ratings agencies. Abidin Ozkaya, who runs a ceramics business and is president of the Kayseri Chamber of Industry's assembly, said the emergency move in May could have been avoided if the central bank hoisted rates more in April.
Those willing to talk politics are convinced Erdogan will turn things around if he wins. Anatolia's Turks were the most ardent backers of a referendum last year to create an executive presidency, abolishing the prime minister's job and weakening the role of parliament. 
"We need a leader who bangs his fist on the table in front of Europe," said Ali Gunduz, a 54-year-old shopkeeper who sells cheese and nuts in downtown Gaziantep, where 62 percent of people voted yes. "Foreign powers are hurting our economy, but after the elections things will be much better."
Given the lira's weakness, Ozkaya, who runs the Kayseri cable plant, isn't so hopeful.
"As long as our level of debt and spending habits don't change, it's obvious that the economic circumstances will be difficult," Ozkaya said. "I am shocked that people seem to be unconcerned about the level of debt. If we can't roll over existing debt and find fresh money, we'll have problems."
To contact the editor responsible for this story: Benjamin Harvey at bharvey11@bloomberg.net, Daliah Merzaban
Get Your
Daily Newsletter
Get market moving news, top news & compelling perspectives
---