Emerging Asia Hit by Biggest Foreign Investor Exodus Since 2008
A falling tide lowers all boats, it seems. 
18 Jun 2018, 1:53 PM IST
(Bloomberg) -- A falling tide lowers all boats, it seems. Amid an exodus from emerging markets, investors are pulling out of even Asian economies with solid prospects for growth and debt financing.
Overseas funds are pulling out of six major Asian emerging equity markets at a pace unseen since the global financial crisis of 2008 -- withdrawing $19 billion from India, Indonesia, the Philippines, South Korea, Taiwan and Thailand so far this year, according to data compiled by Bloomberg.
While emerging markets shone in the first quarter, suggesting resilience to Federal Reserve tightening, that image has shattered over the past two months. With American money market funds now offering yields around 2 percent -- where 10-year Treasuries were just last September -- and prospects for more Fed hikes, the bar for heading into riskier assets has been raised. Headlines on trade disputes that could hit Asian exporters haven't helped.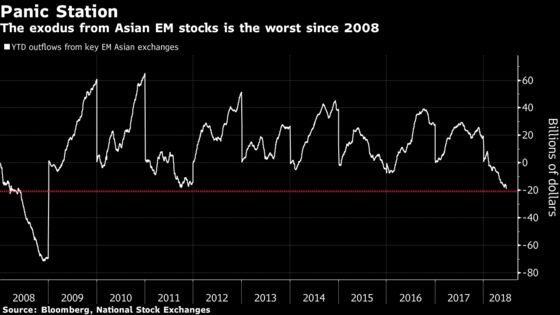 "It's not a great set-up for emerging markets," James Sullivan, head of Asia ex-Japan equities research at JPMorgan Chase & Co., told Bloomberg TV from Singapore. "We've still only priced in about two thirds of the U.S. rate increases we expect to see over the next 12 months. So the Fed is continuing to get more hawkish, but the market still hasn't caught up."
While many emerging-market investors and analysts have praised Asian economic fundamentals, pointing to world-leading growth rates and political stability, some are starting to raise red flags as global liquidity starts to shrink. The Bloomberg JPMorgan Asia Dollar Index sank to a 2018 low on Monday, extending two weeks of declines after the Fed and European Central Bank both took steps toward policy normalization.
Yet some still remain optimistic. Bank of America Merrill Lynch expects some of the regional currencies including the baht and the Philippine peso to appreciate slightly by the end of the year, a research note sent Monday showed. Six of 10 best-performing emerging currencies so far this year are in Asia, led by the ringgit's 1.2 percent advance and the Chinese yuan's 1.1 percent gain.
Developing nations including Turkey, Indonesia, India and Argentina have raised rates, while Brazil's central bank has sold extra foreign-exchange swap contracts in an effort to stabilize their markets.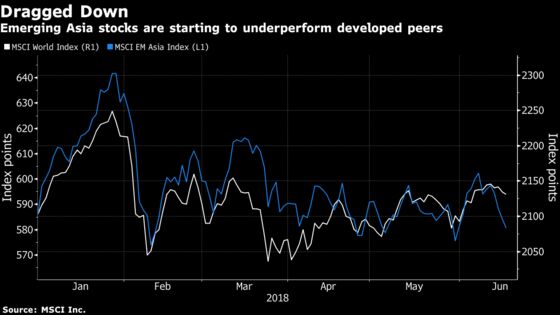 In Asia this week, the Philippine central bank, which raised its key rate in May for the first time since 2014, is expected to lift the benchmark again by 25 basis points to 3.5 percent, a Bloomberg survey shows.
The Bank of Thailand will keep its benchmark unchanged at 1.5 percent the same day, according to a separate Bloomberg survey, though JPMorgan for one sees an increase coming next quarter. The baht has tumbled 4.6 percent against the dollar this quarter, despite Thailand having a current-account surplus in excess of a whopping 9 percent of gross domestic product. Thailand is also in the midst of the longest stretch of 3.5 percent plus GDP growth since the early 2000s, according to the IMF.
Thai Finance Minister Apisak Tantivorawong, for his part, said Monday he's not concerned about capital outflows, and the country's central bank need not follow the Fed in raising rates. Meantime, the baht hit its 2018 low in Monday trading, and the main Thai stock index was down 1.2 percent as of 2:02 p.m. in Bangkok.
To contact the reporters on this story: Yumi Teso in Bangkok at yteso1@bloomberg.net;Garfield Reynolds in Sydney at greynolds1@bloomberg.net;Adam Haigh in Sydney at ahaigh1@bloomberg.net
To contact the editors responsible for this story: Tomoko Yamazaki at tyamazaki@bloomberg.net;Christopher Anstey at canstey@bloomberg.net
Get Your
Daily Newsletter
Get market moving news, top news & compelling perspectives
---