Buying the Dip May Get a Lot Tougher Going Forward: Taking Stock
Buying the dip may get a lot tougher going forward: Taking stock
(Bloomberg) -- We spent the last five trading sessions biting our nails over a combative G-7, a grandiose showdown between Trump and Kim Jong Un, a hawkish tilt from the Fed, a ratcheting up of the U.S.-China trade conflict, and the plot-thickening drama over the $43 billion NXP Semiconductors/Qualcomm deal that still hasn't officially received Chinese approval.
And what does the market have to show for itself? Absolutely nothing, as the S&P 500 couldn't be bothered to be dented by even one sheer handle (we technically ended up sixty three-hundredths of a point on the week). A trough-to-peak reversal of ~0.8% helped keep things in equilibrium on Friday, a session which looked bleak off the open on the Trump $50 billion tariff announcement, but a mid-morning bounce left many to realize that trade war fears are a) quickly being shrugged off, or b) giving the bulls a magnificent opportunity to buy any weakness in this tape.
Today could be a do-over of Friday (and a replay of what we've seen over the past few weeks), where we open lower on persistent trade concerns (S&P futures are already down ~17 handles), tread water for an hour or two, and then the dip-buyers resurface to bring this tape back to the flat-line.
Or maybe now that a whole host of macro/economic catalysts are out of the way, the trade issue moves back to the forefront and begins to impact the market in a much heavier manner than it has recently. There wasn't a whole lot of focus on anything else markets-wise over the weekend besides the U.S.-China tit-for-tat trade squabble -- read here to see how an actual trade war could play out -- though until things really turn south, it appears as though the market is still pricing in some form of negotiated resolution.
Staples Rallied, Defense Stocks Plunged
While the broader market didn't accomplish too much in the past week, besides staying the course in the 2,750-2,800 range, the disparity among sector performance was pretty wide:
The best-performing S&P subgroups were the utilities (+2.6% as the post-Fed yield blip faded quickly and as activist involvement appears to be ramping up in the sector), consumer discretionary (+2.2% on the more TMT-like deal stocks pitching in after the TWX/T ruling like Discovery and Fox, and of course Netflix's record-shattering surge), and the staples (+1.9% as the group as started exhibiting strength for the first time in a while, as pointed out in last Tuesday's Taking Stock)
The weakest links in the S&P included the industrials (-1.4% as defense stocks sold off, perhaps in reaction to the Trump's cordial dealings with North Korea, as did some of the key trade names like CAT and DE), the financials (-1.9% on a reversal in the bank stocks), and energy (-3.1% after a huge drop in crude prices Friday)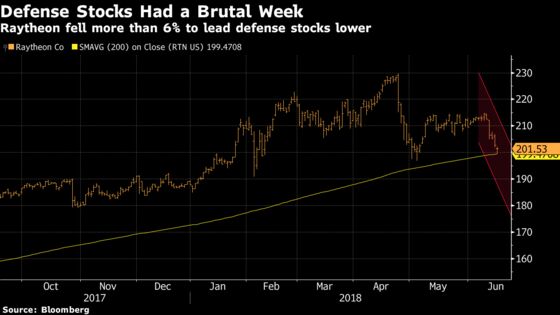 Here's a quick look at some recent posts on the investment network SumZero:
Papyrus Capital's Nitin Sacheti (formerly of Charter Bridge Capital) on June 12 recommended buying GCI Liberty (GLIBA): Seen as best opportunity to own Charter Communications (CHTR) at a 51% discount to intrinsic value, offering 106% upside to Papyrus' price target of $90; in an update on June 13, Sacheti said the Time Warner/AT&T ruling increases the probability of a vertical merger
Desai Capital Management's Ashish Desai (formerly of Bretwood Capital) on June 11 said to buy Alaska Air (ALK), an undervalued company based on growth prospects, with a price target range of $90-$105 over an 18-24 month holding period
Prospective Value Partners Managing Director Al Rosano (formerly of Vance Hall Capital Management, Traditional Capital, and Circle T Partners) on June 7 slapped a price target of $150 on Wyndham Destinations (WYND), citing annuity-like visibility with shares that can be bought at a 14.5% yield on projected 2019 free cash flow
Here are your biggest calls so far..
Morgan Stanley Chief U.S. Equity Strategist Michael Wilson upgrades the utilities sector to an overweight on peaking 10-year yields and improving relative earnings breadth. More broadly, Wilson says that flattening curves and a 10-year that fails to sustainably break above 3% has implications for "the underappreciated 'risk on' environment we are in."
JL Warren said Tesla (down 1.4% pre-market) suspended taking new orders for customized models S and X after China's retaliatory tariff announcement, citing checks, and added that the company is focused on destocking inventories over the next few weeks.. Separately, Berenberg has a note on the The Boring Company, which it estimates to have enterprise value of up to $16 billion with potential to unlock material upside for Tesla on a deepening relationship..
Goldman downgrades the online real estate stocks (ZG to neutral, RDFN to sell) on signs of increasing competition, expectations for continued tightness in housing & mortgage availability, and what has historically been a period of seasonal underperformance..
Keybanc is incrementally more positive on a slew of semiconductor stocks levered to the 5G upgrade (ADI, AVGO, IDTI, QCOM, SWKS, XLNX) after attending an RF industry conference and also incrementally positive on the video game space (ATVI, EA, Ubisoft) after E3..
BofAML double downgraded HIBB to underperform from buy on risk to second half comps.. and Wells Fargo took its underperform rating off of TEVA after a positive meeting with the company's CEO and CFO..
Tick-by-Tick Guide to Today's Actionable Events
Today -- VRX Pdufa for Duobrii lotion
Today -- IPO lockup expiry DOGZ
8:00am -- World Cup: Sweden vs South Korea
8:45am -- Departing NY Fed Chief Dudley speaks
9:00am -- Top Live Q&A with Bloomberg oil strategist Julian Lee
10:00am -- NAHB housing market index
11:00am -- World Cup: Belgium vs Panama
11:30am -- Trump meets with National Space Council
11:30am -- PTC investor meeting
12:30pm -- Mike Pompeo and DTE CEO Gerry Anderson at Detroit Economic Club
1:00pm -- Fed's Bostic speaks
1:30pm -- Draghi opening remarks at Sintra
2:00pm -- World Cup: England vs Tunisia
4:00pm -- Fed's Williams speaks
4:10pm -- Larry Summers on Bloomberg TV
4:30pm -- Fed's Kashkari on Bloomberg TV
To contact the reporter on this story: Arie Shapira in New York at ashapira3@bloomberg.net
To contact the editors responsible for this story: Chris Nagi at chrisnagi@bloomberg.net, Steven Fromm