Saudis Say Deal to Gradually Boost OPEC Output `Inevitable'
The deal that OPEC and its allies will agree to boost oil output gradually is "inevitable", Saudi Arabia says.
(Bloomberg) -- Saudi Arabia's oil minister said it's "inevitable" that OPEC and its allies will agree to boost oil output gradually, giving the most definitive signal yet that the cartel will alleviate high prices for consumers.
"I think we'll come to an agreement that satisfies most importantly the market," Khalid Al-Falih told reporters in Moscow on Thursday, when asked about the outcome of the meeting between the Organization of Petroleum Exporting Countries and its allies in Vienna next week. "I think it will be a reasonable and moderate agreement" but nothing "outlandish," he said.
Russia and Saudi Arabia, leaders of the deal that curbed crude output and boosted prices to three-year highs, will discuss their next move in Moscow on Thursday as the two nations face off in the soccer World Cup. They face growing pressure, not least from the Twitter account of U.S. President Donald Trump, to increase supply to offset disruptions caused by the economic crisis in Venezuela and renewed American sanctions on Iran.
OPEC and its allies could consider an increase of as much as 1.5 million barrels a day, Russian Energy Minister Alexander Novak told reporters in Moscow on Thursday. That would be enough to offset the supply losses from Venezuela and Iran foreseen by the International Energy Agency. Saudi Arabia has been discussing different scenarios that would raise production by between 500,000 and 1 million barrels a day, according to people familiar with the matter.
In any agreement, the amount of extra oil supplied to the market could end up being lower than the pledged boost. Some countries, notably Venezuela and Mexico, have little ability to raise production due to problems in their domestic oil industries. About 1 million barrels a day of the current output cuts may not be recoverable.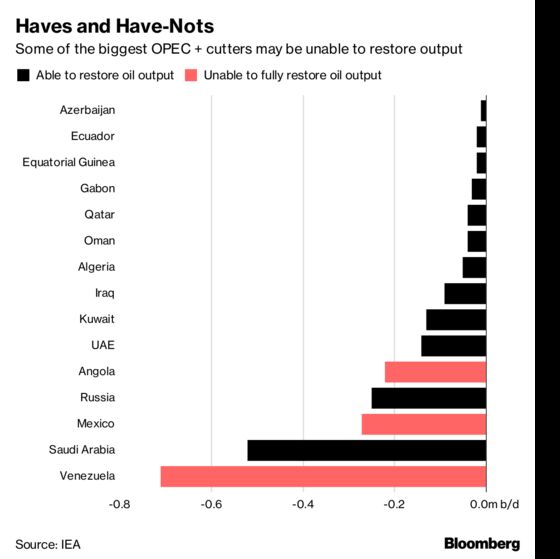 For Al-Falih, the assertion of inevitability is a gamble on his ability to persuade those two nations to drop their opposition to an output increase in face-to-face meetings in the Austrian capital next week. So far, Caracas and Tehran have been adamant that OPEC doesn't need to boost production this year, and have warned against responding to political pressure from Washington.
"The Trump administration is trying to intervene in the affairs of a sovereign organization," Hossein Kazempour Ardebili, the most senior Iranian official attending OPEC meetings after the oil minister, said in an interview on Wednesday. Such attempts have failed in the past and "they will also fail" this time, he said.
Iraq, OPEC's second-largest producer, said the group should resist pressure to increase oil supplies because its curbs haven't yet achieved their purpose, with crude prices still below the desired level.
Before Thursday's soccer match, Russian President Vladimir Putin met Saudi Crown Prince Mohammed bin Salman. The two leaders emphasized their warm relations and the benefits of continued cooperation on oil, without making specific comments about the OPEC agreement.
The two countries share a common view that production should increase gradually, but the precise volume of oil that could be returned to the market and the timing of the boost will be discussed with other ministers next week, Novak said.
In addition to his certainty about the success of next week's OPEC meeting, Al-Falih was equally confident about Thursday's sporting clash at Moscow's Luzhniki stadium.
"I expect Saudi Arabia would win, but it will be a very tight game," he said.
--With assistance from Javier Blas.
To contact the reporters on this story: Elena Mazneva in Moscow at emazneva@bloomberg.net;Stepan Kravchenko in Moscow at skravchenko@bloomberg.net
To contact the editors responsible for this story: James Herron at jherron9@bloomberg.net, Amanda Jordan