Treasuries Curve Reaches Flattest Since 2007 On Steeper Fed Path
The Treasury yield curve from 5 to 30 years flattened to levels last seen in August 2007  .
(Bloomberg) -- The Treasury yield curve from 5 to 30 years flattened to levels last seen in August 2007 after Federal Reserve officials hiked rates and signaled a faster pace of tightening ahead.
The spread narrowed to as little as 24.4 basis points, falling below the previous low for 2018, touched in May. The gap between 2- and 10-year yields also slid to the smallest since 2007, touching 39.1 basis points, before rebounding to just above 40 basis points.
The shape of the curve is important because investors and policy makers have been on guard for it to invert, a shift that has historically preceded recessions. Fed officials boosted their forecast to four total increases in 2018, from three in their March outlook. Their median projections for 2019 also rose.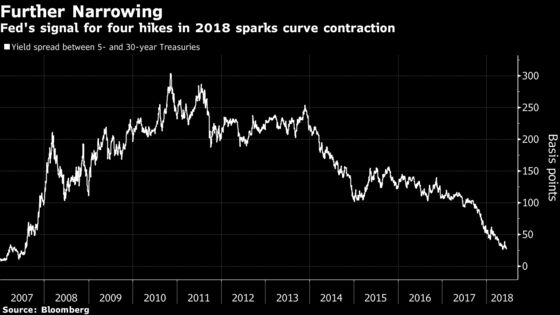 "The bond market has the belief that, as the Fed continues to tighten, it's going to lead to a slowing of the economy," said Peter Boockvar, chief investment officer of Bleakley Financial Group.
The near-relentless curve flattening this year reversed fleetingly after the release of the minutes from last month's meeting, as policy makers signaled they were monitoring the shape of the curve. While a few said the curve had become "a less reliable signal" of future activity, several stressed the link between inversions and coming economic downturns.
Fed Chairman Jerome Powell told reporters in Washington on Wednesday the flattening of the curve remains among topics on policy makers' radar.
"The yield curve is something people are talking about a lot, including FOMC participants," he said. "That discussion is really about what is appropriate policy and how do we think about policy as we approach the neutral rate," Powell said, referring to the fed funds rate that neither stimulates economic growth nor curtails it.
The low level of long-term rates is a puzzle, he said. Forces such as the historically low term premium and global demand for Treasuries as a haven are among likely causes, he said.
With a decline in the gap between 2- and 10-year yields to below 40 basis points, traders will look to spreads of 25 basis points and 12 basis points as support levels, said Tom di Galoma, managing director of government trading and strategy at Seaport Global Holdings.
--With assistance from Alexandra Harris.
To contact the reporter on this story: Liz Capo McCormick in New York at emccormick7@bloomberg.net
To contact the editors responsible for this story: Benjamin Purvis at bpurvis@bloomberg.net, Mark Tannenbaum, Greg Chang