Vale Deal Shows Carmakers Will Need to Pay Up to Secure Cobalt
Vale Deal Shows Carmakers Will Need to Pay Up to Secure Cobalt
(Bloomberg) -- For the past year, car manufacturers, battery makers and tech companies have been racing to secure long-term supplies of cobalt, the metal whose scarcity risks upending the electric vehicle revolution.
Now, Vale SA has struck the first truly large-scale, long-term contract to sell cobalt from its Voisey's Bay mine in Canada to Wheaton Precious Metals Corp. and Cobalt 27 Capital Corp. The $690 million streaming deal has set a marker for what users such as BMW AG may have to pay for the silvery-blue metal -- and it's a pretty bullish one.
The deal will see Wheaton and Cobalt 27 pay $390 million and $300 million, respectively, for shares of future cobalt output from Voisey's Bay. Cobalt 27 will get about 730 metric tons a year from 2021 as the project ramps up and 850 tons a year once it's operating fully from 2025, a company presentation showed. It will continue to pay Vale roughly 20 percent of the spot cobalt price for the metal it receives.
Assuming that the buyers are looking for at least a 10 percent return on their investment, that implies a cobalt price around the high $30s a pound -- not far below the current rate of $42 and more than triple the cost two years ago. It's a bullish signal in a market that has wobbled recently amid signs that supplies are still ample enough, with many analysts predicting prices to ease.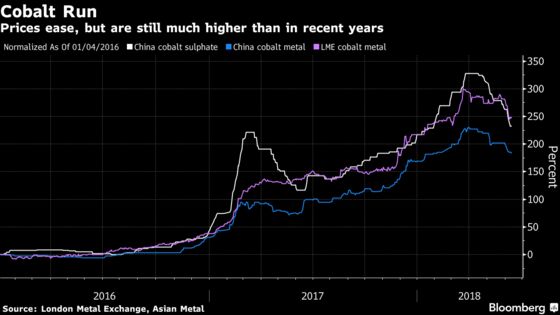 Still, if the electric car revolution really takes hold, the price expectation may not be outlandish. Sanford C. Bernstein & Co. has said that cobalt could have to climb to $60 a pound to meet governments' electric-vehicle targets.
The Vale deal, which comes after Glencore Plc in March signed a three-year accord to sell output to a Chinese supplier of battery chemicals, may not be directly replicated by other major miners. Glencore and Eurasian Resources Group, which have the biggest plans to expand output, produce cobalt as the primary source of revenue at their mines and so are unlikely to want to limit their price exposure as Vale has done.
At the same time, car companies wanting to lock in supplies will probably do so via a number of strategies, from long-term contracts to deals with junior miners, Benchmark Mineral Intelligence analyst Caspar Rawles said.
Still, the Vale agreement sets something of a price benchmark for long-term cobalt deals by showing what financial investors are willing to pay.
"The reality is that you either believe in the story or you don't," Rawles said. "The long term story is definitely still one of high prices and lack of supply."
--With assistance from R.T. Watson.
To contact the reporter on this story: Jack Farchy in London at jfarchy@bloomberg.net
To contact the editors responsible for this story: Will Kennedy at wkennedy3@bloomberg.net, Nicholas Larkin, Alex Devine
Get Your
Daily Newsletter
Get market moving news, top news & compelling perspectives
---