Junk-Bond Valuations Hark Back to 1997 Bubble, Pre-Lehman Heyday
Students of history will find two parallels to today's credit market -- and neither will provide much comfort.
(Bloomberg) -- Students of history will find two parallels to today's credit market -- and neither will provide much comfort.
According to a key valuation metric, investors are headed for the kind of bullishness on high-yield bonds that's been seen just twice before: during the halcyon days of 1997's tech bubble before the Asia crash, and on the eve of the global financial crisis a decade later.
The ratio between U.S. junk-bond yields and their high-grade counterparts has reached levels that "hearken back to the high risk appetite days of October 1997 and June 2007," CreditSights Inc. strategists Glenn Reynolds and Kevin Chun wrote in a note this week. That's "not a great set of dates along the credit market timeline of overconfidence," they noted.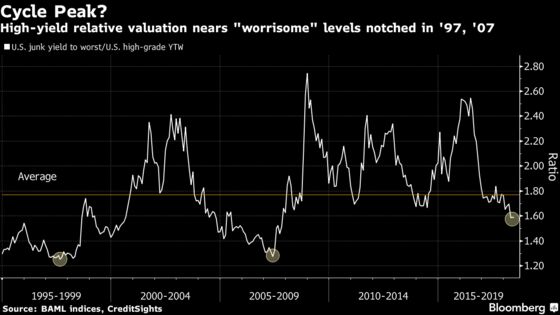 While Corporate America's earnings trajectory looks healthy, as the economic cycle matures investors are hunting for shorter-duration bonds with cash flows linked to growth -- paving the way for the outperformance of high yield over its better-rated counterpart. Climbing oil prices and modest net supply also firmed up junk valuations.
Meanwhile, rising benchmark rates have sent investment-grade debt -- an asset class teeming with duration risk -- on a losing streak. The Bloomberg Barclays U.S. Corporate Investment Grade Index is down 3.2 percent this year.
CreditSights is sanguine on the business cycle but frets over event risks from global trade to machinations in the White House. The meltdown in Italian markets last week, for example, underscores how corporate bonds can get pulled into a vortex of political risk.
"The fear is that the market is underestimating the threat of trade wars and European political instability and what turns they could take," Reynolds and Chun wrote.
Even so, they reckon American companies -- including those with speculative-grade ratings and heavy debt loads -- are in better shape than in 2007, while there are fewer imbalances embedded in the U.S. economy. And compared to equities and emerging markets, corporate credit would likely be a favored investment for multi-asset portfolios during a crisis.
"High-grade would win on the theory that the Fed would slow down and inflation ease, but U.S high-yield would have some room to maneuver," the strategists wrote, pointing to modest refinancing risks and the prospect of bank support.
To contact the reporters on this story: Sid Verma in London at sverma100@bloomberg.net;Cecile Gutscher in London at cgutscher@bloomberg.net
To contact the editors responsible for this story: Samuel Potter at spotter33@bloomberg.net, Tracy Alloway