South African Assets Tumble as Ramaphosa's Growth Pledge Palls
South African Assets Tumble as Ramaphosa's Growth Pledge Palls
(Bloomberg) -- The rand weakened, yields on benchmark bonds rose and retail and banking stocks fell as a report showed that South Africa's economy shrank the most in nine years in the first quarter, casting a pall over President Cyril Ramaphosa's promise to boost growth.
Ramaphosa, who replaced Jacob Zuma in February, has pledged measures to fuel the economy, boost employment and attract investment after four years in which output never managed to expand more than 2 percent annually. But the latest data show he has a mountain to climb: gross domestic product contracted an annualized 2.2 percent in the first quarter of the year compared with the prior three months.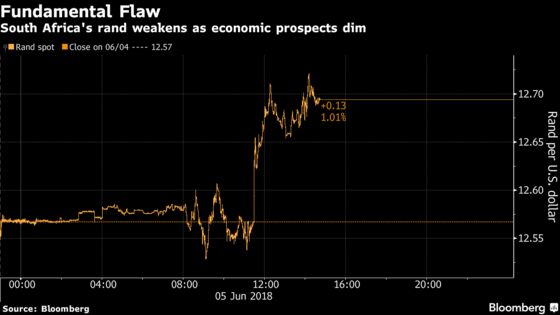 "We've seen the 'Ramagloss' rub off and now markets are focusing on the fundamentals of South Africa," Michelle Wohlberg, a fixed-income trader at Rand Merchant Bank in Johannesburg, said by phone. "Bonds and the rand will continue to trade defensively in the short term."
The rand fell as much as 2 percent and traded 1.7 percent weaker at 12.7817 per dollar by 5:14 p.m. in Johannesburg. Yields on benchmark 2026 government bonds climbed eight basis points to 8.65 percent.
An index of banking stocks fell 3.4 percent, the most in three weeks, while shares in general retailers dropped 2.3 percent. The benchmark stocks gauge dropped 0.2 percent, supported by gains in so-called rand hedge stocks that benefit from weakness in the currency because of revenue earned abroad.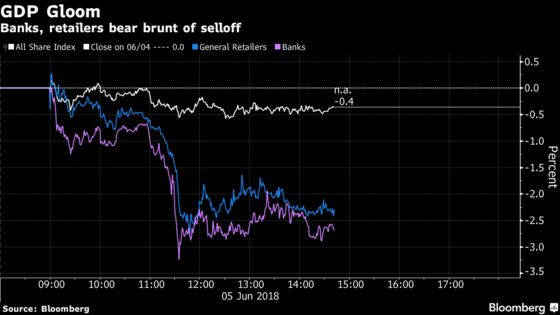 Banks and retailers "are quite dependent on an improving macro and improving fundamentals in South Africa," said Brad Preston, chief investment officer at Mergence Investment Managers Ltd. in Cape Town. "But this is a backward-looking number, it was largely expected to be quite negative. I'd imagine the move to be quite short-term sentiment-driven."
Ramaphosa's rise to power since December initially boosted sentiment and the rand following Zuma's scandal-ridden tenure, but confidence indexes have now returned to levels they were at late last year as businesses seek real reforms. Output expanded 0.8 percent year-on-year in the first quarter, below the economists' estimate of 1.5 percent and short of the central bank's full year forecast of 1.7 percent.
The weak GDP data may force the South African Reserve Bank to adopt a more dovish policy path in support of the economy, said Per Hammarlund, the Stockholm-based chief emerging-market strategist at SEB SE. The central bank last month left its main policy rate unchanged, and hinted that further loosening was off the table as inflation pressures build.
"It will take years to see the effects if Ramaphosa succeeds in implementing structural reforms to boost employment, investment and potential growth," Hammarlund said. "The rand is depreciating because of the reality check provided by the GDP number, and because slow GDP growth may prompt the Reserve Bank to take a more dovish stance despite an expected uptick in inflation."
To contact the reporters on this story: Colleen Goko in Johannesburg at cgoko2@bloomberg.net;Thembisile Dzonzi in Johannesburg at tdzonzi@bloomberg.net
To contact the editors responsible for this story: Dana El Baltaji at delbaltaji@bloomberg.net, ;Celeste Perri at cperri@bloomberg.net, Robert Brand, John Viljoen